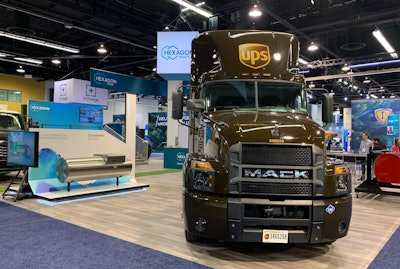 Tom Quimby
While compressed renewable natural gas (C-RNG) also known as bio-CNG gets plenty of attention for having the lowest carbon intensity (CI) value of all transportation fuels, you don't hear much about the fuel in second place: liquified renewable natural gas (L-RNG) also known as bio-LNG.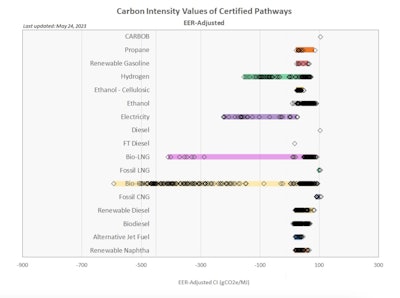 The most recent CI fuel values published this week by the California Air Resources Board (CARB) show bio-CNG clearly in the lead with its best score at -600 followed by bio LNG with -400. Both fuels get negative scores since they're obtained from methane which CARB and the EPA consider to be much more devastating to the ozone layer than carbon dioxide.
But according to the 2023 State of Sustainable Fleets report from Gladstein, Neandross & Associates, it's compressed RNG that's largely favored among fleets.
"Fleets have fully replaced their fossil-based CNG with renewable natural gas in California during the past two years, and growth is strong nationally," states the report, which was published earlier this month.
Industry experts say renewable LNG is more widely used in Europe and that its prospects in the U.S. are mostly limited by availability.
"It's all about the infrastructure for LNG fueling, storing, etc. Generally the industry moved to mostly CNG," said Dave King, Cummins North American on-highway product manager for natural and renewable gas engines. "CNG vehicle fuel systems have improved for packaging on the vehicle. The fuel does not weather in the vehicle system. And fueling infrastructure grew for CNG. For CNG you can put a compressor station on a pipeline and have a fast fill CNG station. For LNG you have to liquify the gas, transport by tanker vehicle, etc., and have cryogenic storage at the refueling facility."
Eric Bippus, executive vice president at Hexagon Agility, also doesn't see bio-LNG overtaking bio-CNG in the U.S. and noted that most of Hexagon's LNG customers are in Europe. However, he thinks it's possible the fuel may gain some ground in the U.S. thanks to its negative carbon value, increased energy density and Cummins new 15-liter X15N, which can run on either compressed or liquified natural gas. Hexagon displayed its Bio LNG Cryoshelter tank earlier this month at the Advanced Clean Transportation Expo in Anaheim, California where Bippus said it attracted attention from both European and U.S. fleets.
"The advantage you have with LNG is range. You have a high energy density coupled with [negative carbon intensity values] but there's significantly more CNG infrastructure in place without doubt," Bippus said.
The fuel station map posted by the Department of Energy's Alternative Fuels Data Center shows only 51 public LNG stations in less than half of U.S. states versus 777 public CNG stations available throughout most of the country. Hydrogen beats out LNG with 57 stations. Nonetheless, additional LNG station growth is possible given growing pressure on fleets to cut emissions.
"There are areas where LNG is being adopted. You could see more LNG stations popping up, certainly. And with our Cyroshelter technology we can really package a lot of fuel on the frame rail," Bippus said. "The Cryoshelter design is very compact and we can get the same amount of fuel in a much smaller space so you could see LNG come back in specific corridors certainly."
Bippus said the Bio LNG Cryoshelter will be piloted in the U.S. later this year.
For Hexagon, which maintains a fuel agnostic approach as it works with customers on natural gas, electric and hydrogen options, the upcoming 15-liter Cummins X15N is seen as a game changer that will boost interest in all gaseous fuels.
"We're super excited about the X15N launch," said Bippus, who sees the engine as an ideal match with their fuel systems, which can offer nearly 300 diesel gas gallon equivalent.
"Now you're getting well over 1,000 miles range between fills and you have a high horsepower 15-liter engine that can haul the payload," Bippus continued. "There's another 200,000 trucks per year that can easily access natural gas as a solution and not have to alter their fleet operation where they're now having to fill twice or three times as much. They can do these long haul runs."
'Some gravitation to LNG' possible
Natural Gas Vehicles for America President Daniel Gage said there's been "much more growing demand for bio-CNG" versus bio-LNG given the greater number of stations available. Bio-LNG is also at a disadvantage for not being as green as compressed RNG. Gage compared some averages.
"Bio-LNG tends to have a higher carbon intensity than bio CNG because of the energy and effort needed to liquify it and keep it cold," Gage said. "Q4 2022 CARB data has the bio-CNG CI mix in the state's Low Carbon Fuel Standard system at -119.22. Bio-LNG was 54.35. As a comparison, electricity was 41.34."
However, there are some advantages the fuel has over CNG. First up is energy density.
"LNG has much more energy density, so you can store more energy in the same size tank," Gage said. "The advantage for LNG is the ability to get supplies to locations where there are no distribution networks or are far removed from pipelines.
"The other advantage is the density and smaller footprint of fueling containers," Gage continued. "That could prove an advantage for some equipment like mining and over-the-road trucks that simply don't have the added space to accommodate larger tank systems. As natural gas starts to attract more attention in the Class 8 truck market or say mining equipment or other off-road equipment, we could see some gravitation to LNG because of these advantages."
Over the past few years there hasn't been much movement in the L-RNG market in the U.S. According to Gage, L-RNG volumes reported to EPA under the Renewable Fuel Standard have been relatively steady the past 3 years. For 2022, 73% of L-RNG was sold outside California he said.