After two years of development work, Squarerigger Software announced the release of its Revolution tire management system, says Ed Cooper, president of the fleet maintenance management software provider based in the Seattle region.
Revolution was designed to be a stand alone product that will supplement any fleet maintenance management system. Revolution utilizes mobile and server-based software; wireless hand held PCs; and electronic data collection methods to eliminate paper from the tire tracking process for commercial and private fleets.
The company highly recommends that fleets who use the Revolution system deploy the software on Motorola 5590 mobile wireless handheld PCs to increase the accuracy and speed of gathering tire data, Cooper says. Fleets can purchase the Motorola computers from Squarerigger.
When performing tire inspections, a technician enters data using a mobile application called Inspector. The size, spec, and brand of each tire and the tire "footprint" of each vehicle have already been entered into the mobile software. If this data has not been entered previous to the inspection, the technician uses drop-down lists to ensure the data entry is kept standard, Cooper says.
Inspector leads the technician to each tire on a vehicle in a natural progression. For each tire, a technician captures tire tread depth (outside, middle and inside), serial number and air pressure. Technicians do not have to enter any of this data manually as they move from tire to tire.
While carrying the handheld in his belt holster, a technician can use Bluetooth-enabled "quick check" probes to capture both tread depth and air pressure. He can also select tire damage codes from drop-down lists, such as "brake skid damage" or "excessive wear" that are based on VMRS standards.
The tire inspection data is then instantly transferred to the Revolution server database through Wi-Fi communications.
Revolution also supports bar codes and tire branding, Cooper says.
In addition to performing tire inspections, the server-based Revolution software maintains detailed records for reporting. Revolution can report tire inventory, miles per 32nd and cost per 32nd, and many other metrics. Any changes to tire inventory or tire positions on vehicles can be accomplished through a drag and drop, graphical interface that allows even new users to understand and effectively utilize the Revolution tire tracking system with very little training, the company says.
As an added benefit for subscribing to Revolution, fleets will be able to compare and benchmark tire performance with other users by tire position, brand, vehicle, and other categories.
"Over time — we are estimating abo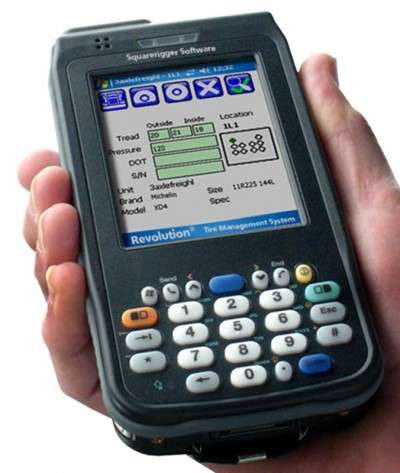 ut 18 months — when we have hundreds if not thousands of fleets on system, we will be able to provide customized reports back to users telling them that based on their fleet's vocation, equipment, tires, etc., how they compare to the best buying practices and best wear (of other fleets)," Cooper says. "Users can determine what is going to give them the bigger bang for buck in terms of wear."
"The tire OEMs are not happy with the fact we are doing this," he adds.
For more information visit www.RevolutionTMS.com