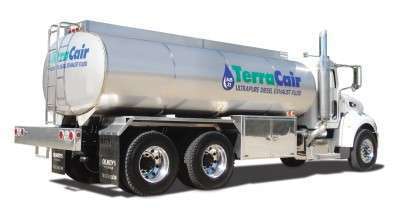 Terra Environmental Technologies (TET), a leading supplier of diesel exhaust fluid, announced several major arrangements with truckstops and others to distribute the company's TerraCair Ultraure DEF. Most trucks built to comply with 2010 engine emissions regulations will require DEF as part of their selective catalytic reduction systems.
The agreements include two companies – Barjan and DAS – that distribute goods to truckstops and travel centers. Sapp Bros. Travel Centers, which operates 16 travel centers, selected TET as its exclusive DEF supplier and is stocking TerraCair Ultrapure in 2.5-gallon packages. TET also announced that the three largest independent truckstop networks – the North American Truck Stop Network, America's Best Truck Stops and Professional Transportation Partners – have endorsed TerraCair Ultrapure and will recommend that their 350 collective members carry the product.
TET also provides the DEF factory fill and is the dealership choice for Daimler Trucks North America, Volvo Group North America, Mack Trucks and Ford Motor Co.
TET's packaging for retail DEF distribution in 2.5-gallon and 1-gallon containers offers several features to improve quality and performance. The containers come with their own built-in flexible dispensing nozzles to eliminate the need for funnels. An integrated airflow valve allows for dispensing of an entire 2.5-gallon container in less than 30 seconds – far less than containers that are not vented, TET says.
TET says it is the only DEF supplier to the North American market that controls its entire supply chain from manufacturing to the pumping or pouring into the DEF tank. This gives the company a level of control over quality that is unmatched, TET says.