Trailing indicators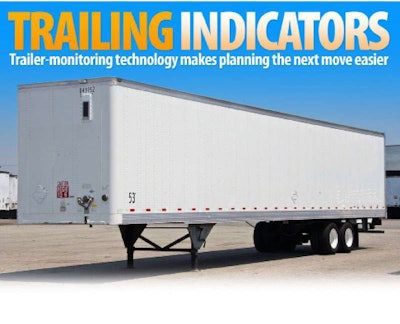 Trailer-monitoring technology makes planning the next move easier
Judging by appearance alone, trailers operated by Brown Trucking are similar to most other dry vans parked at shipping and receiving facilities. But watch closely, and you'll see that the company's trailers don't sit still for long.
The Lithonia, Ga.-based company's dispatch and operations software, TruckMate by TMW Systems, stores the coordinates of each customer site where its trailers are located. The software builds an imaginary radius or "geofence" around each site to organize the data supplied by the company's trailer-tracking systems into useful reports for its fleet managers and customers.
Brown Trucking uses the technology to manage trailer pools for customers and their consignees. Every morning, the company sends reports to customers that detail the inventory at each location and the number of days each trailer has been idle.
Kevin Slaughter, vice president of operations, says that based on his experiences with managing trailers before implementing trailer tracking, he never will put a trailer in service without the technology. "I love the integration," Slaughter says. "We rely on it so much. We pass so much data on to customers."
Brown Trucking has the information it needs to maximize trailer utilization. And with the economy showing signs of life, fleets like Brown Trucking can leverage the technology to help grow their business without adding capital.
Reduced investments
For the trailers Brown Trucking owns, it uses trailer-monitoring technology from vendors TransCore and SkyBitz. The company also operates about 100 rental trailers from Xtra Lease equipped with Qualcomm's T2 trailer-tracking technology.
Integrating trailer-tracking data into the company's dispatch software has helped Brown Trucking improve asset utilization and lower costs. Before using trailer-tracking technology, the company needed a full-time person to manage 800 trailers. It now takes one person half a day to manage 3,000 trailers, Slaughter says.
Fleets that use the technology typically are able to achieve a return on investment in nine months or less by reducing their trailer-to-tractor ratio, says Darryl Miller, chief operating officer for Asset Intelligence, which offers the VeriWise trailer-monitoring system. In January, I.D. Systems purchased Asset Intelligence from General Electric.
In addition to achieving payback by reducing trailer-to-tractor ratios, companies can use various sensors to monitor tire pressure, cargo status and other events for more cost savings, Miller says.
Cargo Transporters significantly improved the utilization of its 1,400-trailer fleet by using a cargo sensor that automatically detects if a trailer is loaded or unloaded. The Claremont, N.C.-based company installed cargo sensors when it implemented Qualcomm's T2 trailer-tracking system more than two years ago.
Before using trailer tracking with a cargo sensor, communications from customers and drivers regarding a trailer's loaded and unloaded status were unreliable. Now, the technology gives Cargo Transporters the information it needs to increase the number of loads per trailer and reduce capital expenditures, says John Pope, chairman.
Cargo Transporters uses trailer-management software from Add-On Systems to manage trailer pools at each customer location. The Add-On Systems software keeps track of trailer counts by customer, detention charges and utilization from data captured by the Qualcomm T2 system, Pope says.
Renting trailers is one way fleets can jump on new freight opportunities without tying up cash in equipment. However, a perceived drawback of renting trailers on a daily, weekly or monthly basis is that trailer rentals become lost in the system.
To provide customers with visibility of their trailer rentals, Xtra Lease has made Qualcomm's T2 system standard throughout its entire fleet, which totals about 56,000 trailers. For no extra charge, Xtra Lease's rental customers receive daily e-mail reports that show the location and utilization of trailers.
By having access to location data, fleets can improve revenue and manage costs by using the rental trailer only for the period they need it. "We use trailer tracking as a benefit for customers to implement a better asset-management strategy," says Steven Zaborowski, senior vice president of Xtra Lease.
No-touch technology
Every fleet has its own information needs and strategies for using trailer-tracking data. To maximize efficiency, some fleets integrate the data with their dispatch software. Other fleets occasionally will check the location of their trailers by logging on to a vendor website.
One thing all fleets share is a disdain for doing any hardware maintenance once they install the system. "The less I have to touch the units, the better the payback," Slaughter says. Once a trailer-tracking device is installed on a trailer, Slaughter expects to not have to change batteries or perform other maintenance for about five years. "I'm always looking for units that give me long life with little maintenance," he says.
Fleets generally keep van trailers between 10 and 12 years. Most trailer-tracking products are designed to last 10 to 15 years with a battery life of five years, making at least one change of batteries necessary during the trailer's lifecycle.
Asset Intelligence has developed an option for VeriWise that uses a solar panel and a battery pack that lasts the life of trailer. In addition to using solar power, the VeriWise platform uses motion-sensing technology that minimizes power consumption. The device does not communicate its location unless the trailer is moved, Miller says.
In January, SkyBitz announced a new hardware platform, the GLS400, that has improved power efficiency by 20 percent over its previous platform, says Craig Malone, chief technology officer. Since 2002, SkyBitz has shipped 200,000 mobile terminals.
The GLS400's battery life is about five years, and to ensure ease of maintenance, the mobile terminal is powered by eight off-the-shelf AA lithium batteries, which allows for easy replacement, Malone says.
Satellite and cellular
Another key consideration is satellite versus terrestrial communications. Satellite is the best option for fleets that have trailers that travel into Mexico or Canada. And if security is a primary reason for tracking trailers, satellite offers continuous visibility.
TransCore, which offers a satellite-based trailer-tracking system, made a strategic decision in September 2009 to move all of its satellite services to Inmarsat, which now is using fourth-generation satellites and will be a long-term source of satellite capacity, says Dave Sward, TransCore vice president.
For operations such as private fleets that park their trailers only at company facilities, cellular or satellite communications may not be necessary. Some providers of onboard computing and communications systems have products to capture information from the trailer and send it through an in-cab gateway.
PeopleNet offers a Wireless Vehicle Area Network (WiVAN), a gateway that attaches to the tractor to submit information from various sensors on the vehicle to the PeopleNet onboard computer. A separate Trailer ID device attached to the trailer enables the WiVAN gateway to communicate with the trailer and trailer components and capture information for fleet managers to review, such as which trailers are hooked to which tractors, locations, times of last hook or drop, alerts and history reports.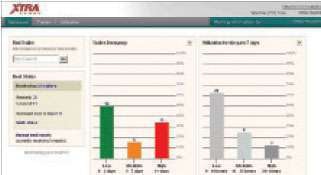 Reefer management
Fleets now face increasing pressure to follow strict temperature standards to ensure that food is not spoiled during transport. On the cost-saving side, they also must optimize reefer fuel usage and overall reefer fleet utilization.
All trailer-tracking providers offer reefer management systems. Last year, onboard computing provider Xata Corp. also released a reefer management and temperature monitoring system that integrates with its Xatanet fleet management tools. The system provides fleets with tools to track temperature data throughout a delivery. A specialized trailer-mounted computer collects and communicates reefer data back to the Xatanet Web host.
For Sunco Carriers, a 650-truck refrigerated fleet that consists entirely of owner-operators, installing TransCore tracking devices on trailers proved to be more effective and efficient than using in-cab communications. With the system, the Lakeland, Fla.-based company is able to locate its trailers, generate projected arrival times and keep trailer pools in check.
The company has added a sensor in the evaporator of 250 of its reefer trailers to monitor box temperatures via a website and through its dispatch and operations software. The temperature records captured by TransCore serve as a backup to the data loggers in the reefer trailers and can be used to prove that the carrier maintained the proper temperature during transit, says Rick Cobb, regional vice president.
By knowing the location and status of trailers, fleet managers can keep their assets moving and chase new opportunities as the economy recovers without adding additional equipment. n
Taking stock
Modest growth expected for trailer monitoring technology in 2010
From 2005 to 2007, the trailer-monitoring market grew between 30 percent and 40 percent each year, and in 2008, the market grew 20 percent. But net growth was minimal in 2009, says Clem Driscoll, president of consulting and research firm C.J. Driscoll & Associates, who projects trailer-monitoring system market growth of less than 10 percent for 2010. The continuing slow economy and trucking sector will continue to constrain growth, he says.
The greatest beneficiaries of trailer-monitoring technology are large fleets that need to track trailer location to maximize utilization. "I think a lot of fleets have trouble quantifying how much revenue they lose by not knowing the location of all their trailers," Driscoll says. "They have trouble justifying the acquisition based on ROI."
Smaller carriers especially are sensitive to the cost of the systems, and solution providers have found it difficult to reduce prices significantly. With typical monthly service fees of $8 to $12 per unit, Driscoll wonders if service providers can go any lower and still make trailer monitoring a profitable business.
Driscoll estimates that the installed base of trailer-monitoring systems today is about 580,000 units, roughly a tenth of the 5.1 million trailers in operation. Technology vendors have adapted their products to meet the needs of all types of fleet operations, but in the past couple of years, the reefer-monitoring market has outperformed the dry van and flatbed markets and thus commands a higher price.