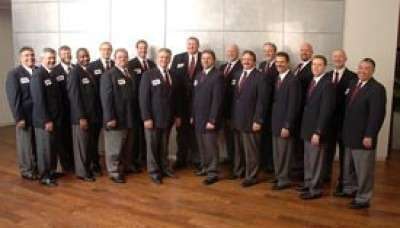 The American Trucking Associations announced that it is seeking nominations for professional truck drivers to serve on the 2011-2012 America's Road Team. Every two years, ATA searches for professional truck drivers, both men and women, who are willing to take time away from the cab of the truck to serve as a Captain. To nominate a professional truck driver, please carefully read the eligibility requirements and fill out the nomination form found at www.americasroadteam.com.
As Road Team Captains, these professional drivers take a few days each month to meet with the motoring public, the news media, students, transportation officials and government leaders to demonstrate the trucking industry's commitment to safety. In addition, Road Team Captains appear at events ranging from driver safety meetings to National Truck Driving Championships to reinforce the importance of safety and professionalism in our industry.
"For over two decades, the America's Road Team has represented the dedication of America's 3.4 million professional truck drivers," says Bill Graves, ATA president and chief executive officer. "By nominating drivers for the Road Team selection process, trucking companies are helping to spread the industry's message of safety, essentiality and professionalism. I look forward to this year's submissions and the great work those selected will accomplish."
Since 1986, America's Road Team Captains have traveled the country educating millions on the importance of safety, the essentiality of the industry and the need for pride and professionalism within trucking. By educating the motoring public, business and community leaders, professional truck drivers, public officials and the media, the America's Road Team Captains make a difference.
"The trucking industry remains absolutely essential to the United States and its citizens, yet this is not always recognized by the public and government officials," says Scott Kress, Volvo Trucks North America senior vice president of sales and marketing. "The captains of America's Road Team, with millions of miles of accident-free driving, are one of the most effective means the industry has to communicate that important information in a down-to-earth way. That is why the best, safest and most dedicated drivers are needed to form the next America's Road Team. As exclusive sponsor of America's Road Team, Volvo salutes these drivers and the companies who employ them."