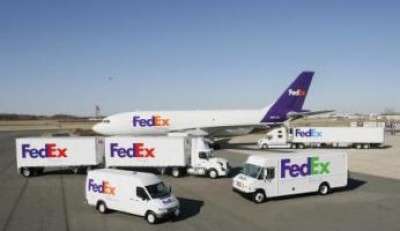 FedEx Corp. today, March 18, reported third-quarter net income of $239 million, up 146 percent from last year's $97 million. Revenue was $8.70 billion, up 7 percent from $8.14 billion; operating income was $416 million, up 129 percent from $182 million; and the company's operating margin was 4.8 percent, up from 2.2 percent.
Revenue and earnings increased as a result of higher shipment growth, particularly in international express and at FedEx Ground. Strict cost controls also benefited results. Increased net fuel costs, an operating loss at FedEx Freight and the partial reinstatement of certain employee compensation programs impacted the quarter's results negatively. One fewer operating day year over year at each of the transportation segments also affected results negatively.
"Outstanding execution of our business strategy and an improving global economy drove solid financial performance in the third quarter," said Frederick W. Smith, chairman, president and chief executive officer of Memphis, Tenn.-based FedEx Corp.
The FedEx Freight segment reported revenue of $1.04 billion, up 14 percent from $914 million; and an operating loss of $107 million compared to an operating loss of $59 million. Less-than-truckload average daily shipments increased 26 percent, and LTL yield declined 8 percent due to the effects of discounted pricing. Operating loss increased due to lower yields and higher purchased transportation costs. FedEx Freight and FedEx National LTL implemented a 5.9 percent general rate increase on Feb. 1, 2010 and are aggressively pursuing opportunities to increase yields.
The FedEx Ground segment reported revenue of $1.91 billion, up 7 percent from $1.79 billion. FedEx Ground average daily package volume grew 5 percent, primarily due to growth in the business-to-business market. Yield improved 2 percent primarily due to higher package weight. FedEx SmartPost average daily volume grew 46 percent due primarily to market share gains. Operating income and margin increased due to higher package volume and yield, lower self-insurance expenses and improved performance at FedEx SmartPost.
The FedEx Express segment reported revenue of $5.44 billion, up 8 percent from $5.05 billion. Led by exports from Asia, FedEx International Priority (IP) average daily package volume increased 18 percent and IP freight revenue increased 49 percent. U.S. domestic average daily package volume grew 1 percent, while revenue per package declined slightly. Operating profit and margin improvements were driven by volume and revenue growth, particularly in higher-margin IP package and IP freight services, as well as continued actions to control spending.
FedEx Services segment, which included the operations of FedEx Office, was down 11 percent due to declines in copy product revenues and the Sept. 1, 2009 realignment of FedEx SupplyChain Systems to the FedEx Express reporting segment.
"In the fourth quarter, we expect to grow our revenue and earnings through increased demand for our superior services," said Alan B. Graf, Jr., FedEx Corp. executive vice president and chief financial officer. "Yield management will continue to be a top priority across all of our operating companies. With our improved performance and outlook, we are reinstating various employee compensation programs, which will dampen earnings growth in the fourth quarter and fiscal year 2011. We are also continuing to invest in long-term projects that improve service and reduce operating costs, such as long-range fuel-efficient 777 freighters."