Trailer Focus: Refrigerated
Compared to dry-van trailers, refrigerated trailers offer more to consider when spec'ing – the type and density of foam insulation, duct design and UV-resistant roofs, just to name a few. As today's transportation refrigerated unit manufacturers introduce models with higher operating efficiencies and lower fuel consumption, trailer manufacturers are offering improved insulation and heat isolation on their refrigerated products, resulting in lower TRU operating costs and greater savings for refrigerated carriers.
The following are standard or typical specifications for popular 53-foot refrigerated trailers marketed by leading suppliers.
GREAT DANE — Classic truckload refrigerated
Floor: 1.38-inch medium-duty aluminum duct for maximum air return; flush rear gutter; four drains
Crossmember: Front – 4-inch aluminum I-beam; bay area – 5-inch-deep aluminum I-beam; side area – 4-inch-deep steel I-beam; all on 12-inch centers
Suspension: Hendrickson HKANT40K 49-inch spread tandem slide
Brakes: 16.5-by-7-inch extended service linings
Sidewalls: 1.13-inch aluminum J upright on 12- and 24-inch centers; 0.04-inch corrugated aluminum side sheets
Lining: 0.06-inch high-glass-content flat white fiberglass lining
Rear frame: Stainless steel
Rear doors: Aluminum frame swing with triple-seal gasket; prepainted white aluminum cover sheets (standard); stainless steel (optional)
Roof: 0.04-inch aluminum sheet with aluminum bows on 32-inch centers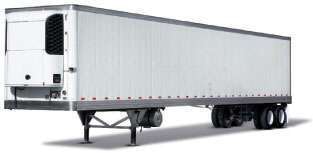 HYUNDAI — HT Thermotech
Floor: Extruded aluminum 1.25-inch-high duct type; rear gutter flush with top of floor; last 4 inches of floor reinforced for forklift use with extruded aluminum inserts and 43-by-96-inch composite bearing sheet
Crossmember: 4-inch-deep extruded aluminum I-beams on 12-inch centers from end of upper running gear rails to support gear; 3-inch-deep high-tensile aluminum I-beam on 12-inch centers between upper coupler and support gear; 4-inch-steel 80,000-lb.-yield I-beams on 12-inch centers over support gear and upper running gear rails; two additional I-beams added in rear 4 feet of trailer for impact resistance
Suspension: Hutchens H9700 with H9711 slider assembly
Brakes: Nonasbestos lining, 16.5-by-7-inch quick-change type, "2"
cam-operated automatic slack adjuster
Sidewalls: 0.04-inch prepainted white aluminum side sheet
Lining: 0.05-inch Bulitex Hybrid sides; 0.065-inch Versitex front; 0.065-inch Versitex rear doors; 0.065-inch Versitex ceiling
Rear frame: Stainless steel; hot-dipped galvanized high-tensile steel; bolt-on under-ride protection
Rear Door: Extruded aluminum frame-type swing doors with dual durometer seals and .04-inch prepainted white aluminum outer sheets; one anti-rack lockrod per door with rubber-grip handles and heavy-duty extruded aluminum hinges
Roof: One-piece 0.032-inch-thick aluminum; corrugated roof sheet design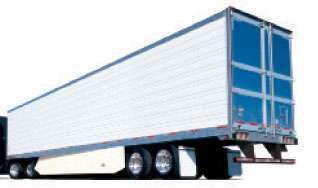 UTILITY — 3000R Refrigerated van
Floor: 1.375-inch duct design with 16,000-lb. dynamic fork truck capacity and an integrated wearband; hardwood floor fillers; patented floor attachment system
Crossmember: 5.5-inch-deep aluminum I-beam crossmembers on 12-inch centers in bay area; 4-inch 80,000-psi steel I-beams on 12-inch centers over legs and rear suspension subframe
Suspension: Hendrickson HKANT 40,000-lb. Vantraax air-ride sliding tandem with standard Quik-Draw pin release system
Brakes: 16.5-by-7-inch brakes with outboard cast-iron drums; 2S-1M ABS system
Sidewalls: .04-inch prepainted white aluminum side skin with "J"-shaped side posts; foam-in-place insulation system with 4-inch front wall, 2-inch sidewall and 3-inch roof and rear door insulation
Lining: Kemlite 0.1- to 0.06-inch tapered FRP on sidewalls; 0.065-inch Versitex on front wall and ceiling
Rear frame: Satin-finished stainless steel
Rear doors: Patented Barrier Rear Doors with a bonded foam "sandwich" design
Roof: High-tensioned aluminum roof skin; 3-inch foam-in-place roof insulation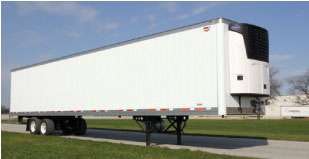 WABASH NATIONAL — Arcticlite refrigerated
Floor: 1.375-inch heavy-duty aluminum duct floor with 16,000-lb. forklift rating; single-piece thermoplastic sub-pan
Crossmember: 5-inch aluminum I-beams on 12-inch centers in bay area; 4-inch steel I-beams on 12-inch centers over slider; 4-inch steel I-beams on 8-inch centers in rear 4 feet; HDPE composite floor stringers
Suspension: Hendrickson HKANT-40 Vantraax 40,000-lb. air-ride sliding tandem
Brakes: Meritor WABCO 2S-1M ABS
Sidewalls: 1-inch heavy-duty Z-posts; computer-controlled high-pressure foam injection
Lining: Versitex high-performance thermoplastic liner with integral scuff
Rear frame: Brushed stainless-steel rear frame
Rear doors: Modular door design with inner and outer door seals; nylon hinge and lock rod bushings
Roof: UV-resistant SolarGuard roof