How will you stop?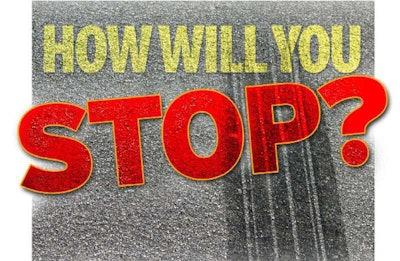 Worried about how next year's stopping distance rule changes will affect your brake costs? Don't be. Experts say it's a near-nonevent.
By Jack Roberts
If you're waiting for the sky to fall when the National Highway Traffic Safety Administration's new stopping distance regulations take effect in August 2011, you're not alone. But take heart: Any rumors that fleets will be forced to spec more expensive air disc brakes or retrofit vehicles to meet the new rules are untrue, according to brake manufacturers. They say August 2011 essentially will be a nonevent for fleets.
"We've been getting a lot of feedback from our customers who are very concerned that they're going to have to fundamentally change the way they spec and maintain their vehicles, and that's simply not true," says Randy Petresh, vice president of technical services for Haldex. He says the new regulations can be met using existing products and technology that is tested and has been on the market and available as optional equipment for years.
The new regulations may seem draconian at first glance, mandating a 30 percent reduction in minimum stopping distance at 60 mph – meaning that a fully-loaded tractor-trailer will have to come to a full stop from 60 mph in 250 feet instead of the 355 feet required today. But experts say that criterion fits a specific set of circumstances that will not affect everyday fleet operations or driver behavior.
"This is a mandate for what is essentially a 'panic stop' at 60 mph in a very controlled environment," says Doug King, aftermarket marketing manager for Bendix-Spicer Foundation Brakes. "Normal stops are still going to be in the 18 to 20 psi application range. So drivers and fleet managers aren't going to notice any difference in the way they stop a commercial vehicle today."
Tractor manufacturers, with support from brake component and system suppliers, ultimately are responsible for ensuring that their new vehicles comply with the new rules. "Due to the increased size and mass of the upgraded brake systems required to meet the new regulations, weight-saving components will likely receive more consideration to avoid overall vehicle weight increases," says Jeffrey Geist, Motor Wheel's director of product and business development.
Braking developments
NHTSA is adopting the new regulations in two stages: The first, taking effect next year, will apply only to tractors with 6-by-4 axle configurations weighing less than 59,600 pounds. The 2013 mandate will be for 4-by-2 vehicles and also will address some issues with heavier 4- and 5-axle tractors.
"There is no imminent program that we know of for trucks at the moment," says Ron Plantan, principal engineer for Bendix's wheel end group. "Basically everything we're talking about is tractors, not trucks. But by 2013, all tractors will be taken care of, and we expect that somewhere down the road there will be some mandate addressing trucks as well."
Retrofitting existing vehicles to meet the new rules is not mandated by the government. "Doing so is probably not a good idea anyway," Geist says. "The brake torque on the front axle can be substantially greater, possibly exceeding the axle's rated capacity."
The industry has seen these mandates coming since the early 1980s when the federal government first required steer axle brakes on commercial vehicles. Prior to the introduction of anti-lock braking systems, steer axle brakes were considered bad because steer axles were prone to lock up when the brakes were applied, causing loss of vehicle control. To solve this problem, many fleets downsized or down-powered their equipment – or even removed their steer axle brakes altogether.
"It's not like it was when the original 121 mandate came into law in the '80s," Plantan says. "When that mandate came into effect, everything – tractors, trailers, trucks, buses – changed at once." ABS didn't have the experience and reliability that it enjoys today, and brake compatibility wasn't part of the discussion, he says. "So a lot of problems occurred out in the field that people still remember, and they say, 'Oh my God, are we going to do this again?' "
"This is a mandate for what is essentially a 'panic stop.' " –Doug King, Bendix-Spicer Foundation Brakes
Plantan believes the 2011 regulations will be painless because commercial vehicle ABS is a proven, dependable technology, and compatibility issues are being addressed by brake OEMs. "On top of that, we have much better technology in brake systems and better thermal capacity today," he says. A typical 6-by-4 tractor already has good stopping distance characteristics – typically in the 275- to 290-foot range. "In actuality, we're only seeing about a 15 percent improvement in government-mandated stopping capability."
Air disc mandate?
Air disc brake systems have been available for commercial vehicles since the 1970s. The technology initially suffered teething problems, but brake manufacturers say today's air disc brakes are highly dependable and reliable with superior stopping characteristics that make them an obvious candidate for fleets wanting to make certain they are in compliance with the new regulations next year.
Petresh is a strong proponent of air disc technology and feels they are "clearly" superior to drum-style foundation brakes for several reasons. "Haldex has been selling them for years and has thousands of them out on the road today," he says. "They have much lower maintenance costs than drum brakes, and they have much more life in terms of friction pads, which last much longer than standard drum brake shoes."
Maintenance costs for replacement parts and the actual maintenance activity both are less for air disc brakes, Petresh says. "And that's in addition to the performance advantages – the traditional point about no fade is pretty important, especially if you drive on a lot of grades, mountainous runs or severe duty cycles such as intra-city P&D or anything like that where your brake temperatures or wear rates are significantly elevated."
Ken Kelley, vice president of Webb Wheel Products' Aftermarket Business Unit, concedes that air disc brakes have many performance advantages, but he stresses that fleets must look at the "big picture" before switching from drum to air disc foundation brakes.
Testing results have indicated the new stopping distance regulations can be achieved by using larger S-cam drum brakes, Kelley says. Today's standard steer axle brake size is 15 inches in diameter by 4 inches wide, but larger 16.5-by-5-inch or 16.5-by-6-inch brakes are used commonly today in vocational vehicles. "They will be a logical answer to providing more stopping torque on commercial vehicle steer axles," he says.
On drive axles, larger 16.5-by-8-inch or even 16.5-by-85⁄8-inch brake shoes also will help provide greater stopping power and enable fleets to meet 2011 regulations without any fundamental change in business or maintenance practices, Kelley says.
"A switch to air disc brakes will involve new maintenance practices compared to S-cam brakes," he says. Fleets also need to determine how air disc brakes will perform when combined with S-cam brakes on trailers, and trade cycles and vehicle residual value also should be considered. "In the end, fleets must look at the cost per mile over the expected life of ownership," Kelley says.
But Plantan argues that for vehicles purchased after August 2011, front air disc brakes may be a good choice in terms of maintenance costs and procedures. "Those new vehicles are going to have a pretty beefy front brake that's going to be doing its fair share of the work stopping the truck," he says. "That is going to improve or reduce the amount of fade on long downgrades and also allow for cooler brakes, because the front brakes have much better airflow over them than the rear brakes do."
Once the compatibility between tractor and trailer is optimized, the overall braking workload on the rear axles is reduced greatly. "We're working very hard on that for both disc brakes, as well as some of the beefier drum brakes," Plantan says. "So the extra cost that you're putting in on the front brakes is actually saving wear and tear on the brakes on the rest of the vehicle."
Both drum and disc brakes will work well when the new regulations come online in 2011.
The cost of switching
Brake manufacturers realize that higher acquisition costs for air disc brakes have convinced many fleets to stick with drum foundation brakes. Although prices may come down if more fleets switch to air disc brakes next year, they will remain a higher-cost item compared to drum brakes.
"I think air disc brakes will eventually catch on in a bigger way, but it's not going to be a quick evolution," says Joe Kay, chief engineer of brake systems for ArvinMeritor. "When you look at the parts of an air disc brake and compare them with an S-cam brake, there is a huge difference in the number of parts each system requires. Being able to get those air disc components all within a decent price range is difficult to do."
Also, most fleets already stock S-cam maintenance items such as bushings or spring kits, so there's no incentive to make a change when parts rooms are filled with replacement items they've already bought. "You can run those similar friction materials on both tractors and trailers, which makes life simpler for technicians and fleet managers," Kay says. "So there's kind of a system that's already in place to keep these vehicles up and running on drum brakes."
On the flip side, Petresh says Haldex is seeing North American fleets log two years and even three years on original air disc brake pads, which he says dramatically alters the maintenance equation. "There's some initial hesitation due to cost," he says. "But once the vehicle gets into that second or third year with its original set of brake pads, we really don't have to do a whole lot of selling anymore."
Still, both drum and disc brakes are durable and safe, and both will work well when the new regulations come into effect next year. "It really boils down to fleet application and maintenance practices," Kay says. "Drums are the right fit for some fleets – discs work well for others."
The only way to find out, King says, is to try air discs and evaluate maintenance costs and driver acceptability. "If you're buying trucks, spec a small fraction of those vehicles with air discs and see how they work out," he says. "We manufacture both disc and drum brakes – but we really feel the air disc can stand on its own merits." n