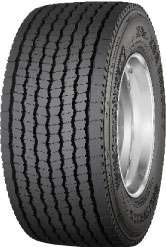 Long-haul wide-single tire
Michelin Americas Truck Tires designed its fuel-efficient X One XDA Energy wide-single tire for long-haul fleets. The X One XDA Energy tire is available in size 445/50R22.5 and will replace the Michelin X One XDA tire. In addition to different belt designs, the tire uses Infini-Coil Technology, which includes more than ¼-mile of steel cord wrapped circumferentially around the crown to help reduce casing growth and stabilize the contact patch, reducing irregular wear. Matrix Siping Technology helps provide greater traction on dry and slippery surfaces; the three-dimensional Matrix sipes lock together for the stability normally associated with solid tread blocks.
Michelin Americas Truck Tires
Visit www.ccjdigital.com/info

Electric APU, multitemp unit
Thermo King's TriPac Electric APU System is an electric auxiliary idle reduction and temperature management system that maintains comfortable temperature conditions in the truck cab without running an engine. Because it is battery- and not engine-operated, fuel and maintenance costs are reduced.
The T-1000 Spectrum Multi-Temp Unit for Trucks is a self-powered multitemperature unit with scroll compressor technology and is suited for operators who need more than one temperature zone in their truck. Spectrum's SmartPower Electric Standby Option, along with its Advanced Fuel-Saving Control Technology, provides fuel savings in all ambient conditions, hauling fresh or frozen. The unit – which emits less particulate matter and carbon monoxide than previous engines – is available in a variety of two- and three-compartment configurations.
The SmartPower High Output Electric Standby Option provides customers the choice of a 24-hp high-output electric standby option or the existing 14-hp version. It delivers quicker precool and less run time for customers hauling larger frozen loads, along with a greater overall cooling capacity.
Thermo King Corp.
Visit www.ccjdigital.com/info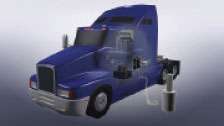 APU with shore power option
Webasto Products North America has expanded its BlueCool Thermal Storage APU product family to include BlueCool Hybrid, giving truck operators the flexibility to use shore power to run the company's bunk cooler while providing hotel load. Because it uses electricity from a land-based source, BlueCool Hybrid can produce cool air indefinitely; it also delivers AC power via a standard 120-volt AC power source for standard household appliances, including laptops and other sensitive electronics, without having to use an inverter or the vehicle's electrical system. BlueCool Hybrid's components include an electrical cord (12 gauge, rated for 20 amps); a junction box with relays, fuses and circuit breakers; a 30-amp battery charger; and a 120-volt AC GFCI (ground fault circuit interrupt) receptacle for the vehicle's interior. When the system detects an outside power source, it switches to "shore power" mode. Electricity from the grid powers the outlets in the bunk, a battery charger to ensure that the battery has sufficient voltage to start the vehicle and the compressor for Webasto's BlueCool Thermal Storage unit.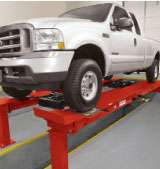 High-volume pit racks
Hunter's P441 and P444 pit racks for high-volume shops provide a comfortable work height and plenty of space around and under the vehicle to help make service fast and easy. The drive-on rack design saves time over raising and lowering a lift and makes either model a suitable alternative for shops with low ceiling height. Both the P441 and P444 feature an 18,000-pound capacity and 22.5-inch runway width to handle a wide range of vehicles. The P441 provides maximum wheelbase limits of 177 inches (two-wheel alignment) and 158 inches (four-wheel alignment). The longer P444 provides maximum wheelbase limits of 211 inches (two-wheel alignment) and 158 inches (four-wheel alignment). Each model is available with 36-inch, 30-inch or 24-inch pedestals, depending on desired pit depth. An optional center pit also is available.
Hunter
Visit www.ccjdigital.com/info
Explosion-proof portable LED light
Larson Electronics' Magnalight line now includes an explosion-proof LED light that produces more light with less heat and lower current draw than the company's standard incandescent explosion-proof light. The EPL-PM-1X30LED-100 is equipped with a handle, pedestal mount, 100-foot cord and explosion-proof plug, and is suited for cleaning tanks and vessels in hazardous locations. The 30-watt Par 38 LED bulb delivers 5,400 lumens and draws a 10th of the electric power of the 300-watt incandescent version, producing less heat – 55 degrees Fahrenheit compared to the incandescent bulb's 190 degrees F – and brighter and whiter light with a 50,000-hour bulb life, which means it can run nonstop for 51⁄2 years. The solid-state bulb won't break if the light is knocked over.
Larson Electronics
Visit www.ccjdigital.com/info
Battery-powered no-idle solution
Bergstrom's Nite Phoenix is a battery-powered no-idle solution that has a larger compressor, as well as an LCD digital user interface and battery monitoring system that make it easier for drivers to control the unit. Features include onboard service diagnostics, automatic temperature control and a check-filter function. As a battery-powered no-idling system, the California Air Resources Board-approved Nite Phoenix unit is able to generate high BTU cooling capacity without emissions. A lithium-ion (Li-Ion) battery for the Nite systems improves power efficiency, resulting in longer run times; the battery has an estimated lifespan of six to eight years.
Bergstrom Inc.
Visit www.ccjdigital.com/info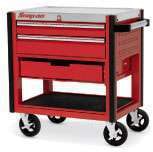 Heavy-duty mobile workstation
Snap-on's Heavy Duty Mobile Workstation (KRSC101) combines the strength of a stationary workstation with the portability of a shop cart to provide a strong, versatile work surface to stage heavy-duty components. The large 38-by-26-inch stainless-steel work surface has raised edges to prevent objects from sliding off and holds more than 1,000 pounds, yet is smooth enough for writing. The workstation is equipped with two 30.25-by-24-inch InPulse drawers that won't drift open while in transit, one 6 inches deep and the other 4 inches deep, both utilizing a secure round-key locking system; a 6-inch-deep utility drawer is provided for in-process work. The workstation – which has an extra-large-diameter handle – moves on 8-inch semi-soft casters built to accommodate loads of more than one ton; a dual-function switch allows the user to switch the casters from swivel mode to rigid to navigate heavy loads through tight spaces or over and around foreign objects. Each corner is lined with soft, vertical bumpers to protect nearby surfaces from impact.
Snap-on
Visit www.ccjdigital.com/info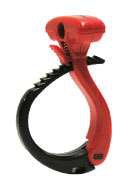 Cable wrap
Del City's Cable Wraptors help ease organizing, storing and carrying wires or any bundle. Made of durable impact- and UV-resistant plastic, the Wraptors are available in medium and large sizes that can be used in a multitude of ways. A large hang hole allows a user to hang it in a garage or other work space, while a release button allows for quick cord removal.
Del City
Visit www.ccjdigital.com/info
Electrical and air hose assembly
Phillips has designed a "3 n' 1" Electrical and Air Hose Assembly with its Quick Connect Plug (QCP). The combination assembly, which can be serviced by removing and replacing the QCP, has large grips for added coupling and uncoupling leverage, swivel end brass fittings, kink and abrasion resistance and a hanging clip for easy installation, and is available in 12-, 15 and 20-foot lengths.
Phillips Industries
Visit www.ccjdigital.com/info
Aluminum hubs for trailer axles
Webb Wheel has added two lightweight, robust aluminum trailer disc wheel hubs, both rated for 25,000-pound axle GVW. Part number 4023 for TN axles weighs 31 pounds complete with studs and bearing cups, and the TP axle hub, part number 4343, weighs 33 pounds.
Webb Wheel Products
Visit www.ccjdigital.com/info
Winch for tough securement
Kinedyne has designed a winch with a cast mandrel to handle the most demanding securement applications. The one-piece mandrel is made of cast steel and features an improved web slot radius that decreases cutting and abrasion on webbing. The mandrel cap holes that receive the winch bar tip are more resistant to "egging" or elongation over time.
Kinedyne
Visit www.ccjdigital.com/info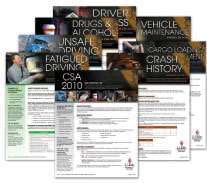 CSA 2010 help
J.J. Keller's manual "CSA For Commercial Motor Vehicle Fleets" (197-M) is designed to help for-hire carriers and private fleets survive and thrive under the Federal Motor Carrier Safety Administration's Comprehensive Safety Analysis 2010. The 800-page manual explains how companies' safety data is collected, measured and evaluated under the new system, and includes best practices, applicable regulations, lists of top violations, roadside inspection procedures and out-of-service criteria. Specific topics include:
• How CSA 2010 differs from SafeStat;
• What new interventions a company could face;
• What new enforcement procedures were created by the initiative;
• How roadside inspections will affect a company's Behavior Analysis Safety Improvement Categories (BASICs) scores;
• What new measurements will be used to determine a company's safety evaluation;
• How to perform self-audits; and
• What BASICs are and how they affect your safety ranking.
To help motor carriers educate their drivers on CSA 2010, J.J. Keller also has developed an informational series of eight different posters. One poster provides an overview of CSA 2010, and the other seven each cover one of the BASICs.
J.J. Keller & Associates
Visit www.ccjdigital.com/info
Linehaul drive tire
Hankook's DL07 linehaul drive tire has an aggressive block tread pattern and a tread depth of 31⁄32nds for long original wear, as well as an advanced carcasses design for improved even wear, reduced heat buildup and maximum mileage to removal. Other design features include wider, flat shoulder ribs and a high-grip notch shoulder design to prevent irregular wear. The DL07 tire currently is available in 285/75R24.5 size, with 11R22.5, 11R24.5 and 295/75R22.5 sizes available in the third quarter.
Hankook
Visit www.ccjdigital.com/info
Steer tire for regional, long-haul use
Bridgestone Bandag Tire Solutions has refined its Bridgestone-brand R287A steer tire for regional and long-haul applications. The tire – SmartWay-approved by the U.S. Environmental Protection Agency and California Air Resources Board-compliant – has a refined side groove structure that acts as a shock absorber to help prevent shoulder edge wear from spreading to the ribs, while the groove's inside helps prevent stress cracking. An equalizer rib promotes uniform rib wear and higher removal mileage by fighting initiation and spread of rib edge wear. The R287A – which has a 16⁄32-inch tread depth – includes a cap compound that fights irregular wear, wears slower and runs cooler for additional tread life. A base compound shields the casing from damaging tread heat for enhanced retreadability.
Bridgestone Bandag Tire Solutions
Visit www.ccjdigital.com/info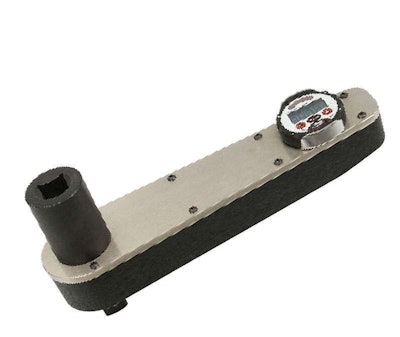 Torque multiplier display wrench
Stanley Proto's Torque Multiplier Display Wrench measures applied torque directly at the fastener, with an accuracy of plus or minus 1 percent. The tool, which is placed between the multiplier and the fastener, is designed to ensure that the proper final torque is applied to the fastener. The display wrench has a 1-inch drive and is available in two torque ranges: Model J6349A has a range of 100-1,000 lb.-ft., while model J6352 has a range of 200-2,000 lb.-ft. Both are 24 inches in length.
Stanley Proto
Visit www.ccjdigital.com/info
NAP-free OAT coolant
Cummins Filtration has released an environmentally friendly Fleetguard ES Compleat OAT (Organic Acid Technology) Coolant in a nitrite-, amine- and phosphate-free (NAP-free) formulation. ES Compleat OAT does not contain borate or silicate, and the NAP-free formula facilitates improved liner pitting protection and better aluminum protection. The coolant – which also provides antifreeze, antiboil, heat transfer and corrosion protection – meets ASTM and the performance specifications of Cummins, Detroit Diesel, Volvo, Mack and Navistar. With extended service intervals of 150,000 miles, ES Compleat OAT offers freeze protection to -34 degrees Fahrenheit and is compatible with gaskets, elastomers and other nonmetallics in all diesel, gasoline and natural gas engines.
Cummins Filtration
Visit www.ccjdigital.com/info
Hybrid refrigeration unit
Carrier Transicold's Vector 6600MT trailer refrigeration unit provides high refrigeration capacity and delivers up to 20 percent greater fuel efficiency than its predecessor. Along with the company's Vector 6500 unit, the Vector 6600MT takes advantage of Carrier's Deltek diesel-electric technology for high operating efficiencies, reduced maintenance requirements and an electric standby option for stationary units. In addition, technological enhancements to system components and operating software and a more efficient system design enable higher performance and greater efficiencies.
The Vector units feature a clean-burning 2.2-liter direct-injection Tier 4i engine that surpasses requirements of the U.S. Environmental Protection Agency's Tier 4-interim standard and has up to 2 percent better fuel efficiency than engines used on earlier Carrier trailer units. The units deliver 59,000 Btu/hour of cooling capacity at 100 degrees Fahrenheit ambient and a set point of 35 degrees Fahrenheit. The 6600MT is suited for customers committed to green strategies, reducing fuel consumption and lowering emissions. With the refrigeration system's all-electric architecture, Vector units deliver about the same performance on electric standby as they do in diesel operation, conserving fuel, eliminating emissions and reducing noise.
The Vector units share the same body design as Carrier's X2 series units and incorporate impact-resistant DuraShell 2 body panels that open all the way to the top for easy access to interior components during service.
Carrier Transicold
Visit www.ccjdigital.com/info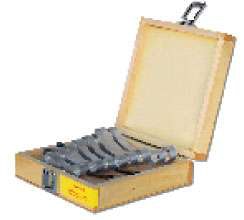 Stud extractor kit
Tire Service Equipment Manufacturing Co.'s Cheetah Stud Extractor Kit removes broken axle studs without harming the other studs or the axle hub. Using the kit, technicians have the ability to drill a hole precisely in the center of the broken stud, saving time and eliminating the need to replace entire axle hubs with broken studs or to re-tap broken axle stud holes damaged by other removal methods. The kit covers the eight most popular truck axle hubs on the road.
Tire Service Equipment Manufacturing Co.
Visit www.ccjdigital.com/info
Bunk cooler, small refrigerator/freezer
Dometic's SP-900 low-power bunk cooler is driven by a 12V Danfoss compressor and produces 3,100 Btu/hour. The split system consists of a condensing unit that mounts on the rear of the cab and an evaporator unit that mounts above the bunk or seat; the two units are connected by precharged refrigerant linesets. All components are sealed hermetically, and no refrigerant charging is needed at installation. The inside unit has four separate adjustable discharge air vents, as well as a digital thermostat and a keypad. The SP-900 runs on power taken directly from the battery bank; no inverter is needed. A low-voltage sensor and automatic shut-off circuit ensure the system will not deplete the truck's batteries.
The company's CDF-11 super-slim refrigerator/freezer unit measures 9¼ inches wide and 14 inches high, weighs 19 pounds and provides 0.4 cubic feet of storage space. The adjustable digital thermostat can be set to provide either cooling or freezing with a temperature range of 0-50 degrees Fahrenheit. The compressor-driven CDF-11 runs on 12-volt power and draws about 3.75 amps.
Dometic Group
Visit www.ccjdigital.com/info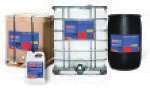 Diesel exhaust fluid for SCR technology
TRP's CleanBlue diesel exhaust fluid can be used in all diesel-powered vehicles that use selective catalytic reduction technology to reduce nitrogen oxide emissions. CleanBlue – formulated to be clear, nontoxic, nonpolluting, nonhazardous and nonflammable – is available at TRP authorized retailers, including Kenworth and Peterbilt dealerships, in 21⁄2-gallon jugs, 55-gallon drums and large 275- and 300-gallon totes.
TRP Aftermarket Parts
visit www.ccjdigital.com/info