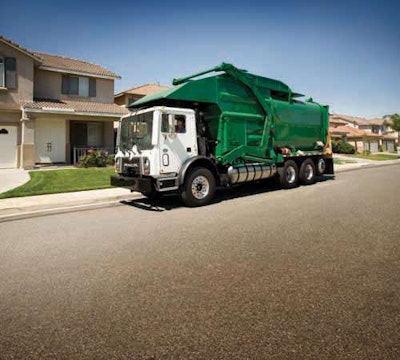 Customers who purchase a Mack TerraPro equipped with a Cummins Westport ISL-G natural gas engine can receive a $32,000 tax credit, according to the U.S. Internal Revenue Service. IRS informed Mack Trucks Inc. that the Model Year 2011 TerraPro series with the ISL-G is certified for the Qualified Alternative Fuel Motor Vehicle Credit and that purchasers may claim the credit on their 2010 Federal Business Income Tax filing.
"This is excellent news," says Curtis Dorwart, Mack marketing manager of vocational products. "The tax credit is more welcome than ever for fleets that need to use alternative fuels to meet state or local mandates. While natural gas has benefits in some applications, it has a higher acquisition cost for new vehicles than diesel. This helps offset that difference."
Natural gas in either compressed (CNG) or liquid (LNG) form burns very cleanly, has abundant domestic supplies and is comparable to diesel in terms of cost over the life of the vehicle. The ISL-G-equipped TerraPro model was engineered specifically and built to operate on natural gas, and the engine is installed on the production line at the Mack Macungie Assembly Operations plant. This means each truck comes with a full factory warranty and a higher level of performance and reliability in refuse applications. The 9-liter ISL-G is rated at 320 hp, can use CNG or LNG, and has a three-way catalytic converter to meet U.S. Environmental Protection Agency 2010 emissions standards.
Mack will display a TerraPro model equipped with the ISL-G at Waste Expo 2010, Booth 2427, May 4-6 in Atlanta. The company also will display six EPA 2010-certified TerraPro Low Entry and Cabover models, each engineered and built to excel in the harsh and demanding world of refuse and recycling applications, while providing operators with a safe, comfortable and ergonomically designed cab. Five of the TerraPro models are powered by the Mack MP7 diesel engine and are equipped with Mack ClearTech selective catalytic reduction system. The sixth TerraPro model is equipped with a Cummins Westport ISL-G natural gas engine.
Two of the TerraPro models are equipped with Mack's new Control Link II body control console. With the Control Link II body control console, Mack says it engineered a clean and simple electrical and electronic interface between the chassis and all refuse bodies; the new in-cab integrated control panel provides an ergonomically friendly and clean design to increase productivity and reduce operator fatigue. In the past, each body company would have installed and wired its own control interface, placing add-on control boxes in the cab as space permitted; Control Link II brings a "plug and play" interface to refuse body installation, eliminating the need for expensive and complex custom wiring solutions, while at the same time improving overall electrical and electronic system reliability. Mack says Control Link II is the result of years of consultation and collaboration with industry professionals, and provides the most comprehensive yet simple solution to bring refuse body controls to the driver's fingertips.
Mack says the TerraPro models on display at Waste Expo 2010 demonstrate its ability to efficiently package the ClearTech EPA 2010 system with virtually any refuse body, without compromising reliability or productivity; they also offer Waste Expo attendees the opportunity to experience firsthand the ergonomics and visibility of the TerraPro series.
Drivers will get to check out a Mack TerraPro for themselves when Mack holds its annual "Driving Skills Safety Challenge" during WasteExpo 2010. The challenge – which drivers to compete for prizes while demonstrating the skills necessary for safely operating refuse and recycling routes — consists of seven events, including pre-trip inspection, turning radius and reversing accuracy. Show attendees with a valid CDL will demonstrate their skills by driving through a closed course in a Mack TerraPro model to emulate real-world operations. Scoring will be based on safety, accuracy and following safety procedures. Specific scoring rules will be provided at the event.
The competition will be held daily: Tuesday, May 4 from 10 a.m. to 4 p.m., and Wednesday, May 5 from 10 a.m. to 3 p.m. The location for the Challenge is Marshalling Yard #4 at the Georgia World Congress Center, which is reached by exiting the rear of the convention center. The overall winners for the two-day competition will be announced Thursday at 4 p.m., including first-, second- and third-place winners for the team and individual categories. Mack and event co-sponsors Allison Transmission, Bridgestone and Michelin will give away more than $15,000 in prizes. In addition to trophies, prizes will be awarded to the top three finishers. All contestants will receive a Mack hat, money clip and duffel bag.
"Driving a refuse truck in a crowded city or a residential neighborhood takes special skills to do so safely," says Michael Reardon, Mack vice president of marketing. "Even though the Mack TerraPro model, like all of our trucks, has unmatched engineering and design, plus industry-leading safety systems and engineering, the most important safety component is always the driver."