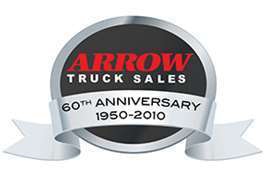 Arrow Truck Sales Inc., a North American provider of preowned heavy-duty and medium-duty trucks, announced Thursday, May 6, that Steve Clough has been named president and chief executive officer. Clough succeeds Carl Heikel, who now is leading international operations for Mack Trucks Inc.
Clough began his career with White Motor Co. in 1980 and later transferred to the Volvo White Truck Corp. After holding a variety of management positions with the Volvo Group, he has served as Arrow's chief financial officer since the company was acquired by Volvo. "I am very proud to now be heading up Arrow, with its lengthy and dominant position within the used truck industry," Clough says.
Arrow, which is celebrating its 60th anniversary this year, was founded in April 1950 by business partners Jerry Nerman and the late Melvin Spitcaufsky. The company, which started as a small used truck lot in Kansas City, Mo., has grown into 19 retail stores located in the United States and Canada – including the recent opening of two new retail stores in Denver and Minneapolis – carrying a diverse inventory of all makes and models and offering a variety of value-add services.