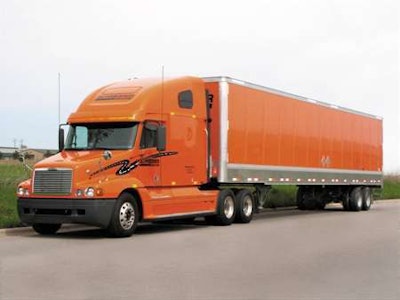 The American Trucking Associations' Supply Chain Security & Loss Prevention Council presented its 2010 Excellence in Security Award to Schneider National and its Leadership Award to Richard Martin, corporate director of security at Knight Transportation. SCS&LPC also awarded Cargo Theft Prevention Distinguished Service Awards to Lt. Cmdr. John Antillon of the California Highway Patrol and Det. William Morales of the Miami-Dade Police Department at the council's recent Supply Chain Security 2010 conference and exhibition in Fort Worth, Texas.
The ATA Excellence in Security Award is given to the motor carrier best demonstrating its ability to evaluate the risk, implement the plans, apply the tools, train the personnel and manage the systems and processes to successfully minimize theft and secure its supply chain. Accepting the award was Walter Fountain, CPP, CCSP, director of loss prevention and enterprise security at Green Bay, Wis.-based Schneider National.
"Schneider National is being recognized for its comprehensive and effective security policies, procedures, plans, programs and training; its commitment to constantly reevaluating and controlling risk; its innovative approach to traditional and homeland security challenges; its extensive emergency response protocols and programs; its successful record of securing the supply chain; and its contributions to national transportation security," says Warren Hoemann, ATA senior vice president.
Martin received the SCS&LPC Leadership Award for his relentless devotion to helping secure the supply chain, both for Phoenix-based Knight and for the industry. "As a long-time active member and current national chairman of the SCS&LPC, Rick has provided expert guidance and support to law enforcement and security professionals, addressing both cargo theft and homeland security issues," says Susan Chandler, SCS&LPC executive director. "Through the council and his involvement in regional cargo theft task forces, he has been instrumental in mobilizing the collective wisdom and resources of motor carriers, shippers and law enforcement to fight crime and secure the supply chain nationally. His leadership has allowed the council to expand its outreach efforts and grow in membership."
The SCS&LPC's Cargo Theft Prevention Distinguished Service Award acknowledged Lt. Cmdr. Antillon's and Det. Morales' extensive efforts to bring attention to the issue of cargo theft in their state and nationwide and for career-long dedication to serving and protecting.