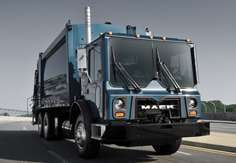 A Mack TerraPro 2010 U.S. Environmental Protection Agency emissions-certified model is in the spotlight on the Thursday, May 27 episode of "Sliced," a new program on History. Each week, the show's host uses a variety of tools to slice objects apart, layer by layer, and explore how they work.
The truck in the show is a Mack TerraPro model that Republic Services has been testing for the past 12 months. It is equipped with the Mack ClearTech emissions control system, which reduces engine emissions to the near-zero levels required for 2010. Heil Environmental manufactured the truck body. The truck was ready to come out of field service and be recycled for secondary use when the "Sliced" opportunity arose.
The show focuses on Mack's ClearTech SCR system and the fact that today's trucks "are not belching black smoke like 20 years ago," says Curtis Dorwart, Mack vocational products marketing manager. Dorwart was on the Boston-area set during the filming to represent Mack and advise the show's staff on what and where to slice.
"The show proves just how tough the TerraPro model is," says Dorwart. "But the ClearTech SCR system is the technology story." ClearTech uses selective catalytic reduction (SCR) technology to reduce emissions of nitrogen oxides (NOx) to near-zero, while at the same time improving fuel economy by up to 5 percent.
The show will air Thursday, May 27, at 10 p.m. ET and will be rerun on Monday, May 31.