The second in a series of quick peeks into the world of commercial vehicles through the lens of Commercial Carrier Journal
Gaining steam
After World War I, the U.S. economy entered a recession as it transitioned away from wartime production. By 1920, most truck manufacturers had closed or reduced their factories to part-time schedules and had lowered equipment prices to prewar levels.
By today's standards, the recession was short-lived. Federal and state governments ramped up funding for road construction, and the demand surged for commercial vehicles. Thousands of businesses were created to shuttle freight between railroad depots and the inner city, and to transport passengers cheaper and faster by bus than by electric railcar.
In August 1922, CCJ told the success story of how trucks and buses transported three million residents during a labor strike that ceased operations of Chicago's street cars and elevated lines. "There was hardly a commercial motor truck in the city that didn't at some time haul its quota of workers to or from the business district or transport them through the outlying sections."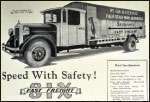 Getting bigger
In the early 1920s, the majority of trucks in the city and on the highway had 4-cylinder gasoline engines and between a 1- and 2-ton chassis. Truck makers offered models with up to 5 tons of capacity, but demand was light.
Electric-powered trucks were popular for door-to-door delivery service. Ward Electric Co. offered models in the 750- to 10,000-pound range.
By 1925, the economy was humming. Truck production reached nearly 500,000 vehicles, an increase of 30 percent from 1924. Trucks with 2-ton chassis and under averaged 90 percent of U.S. truck registrations, but demand for larger vehicles in the 3- to 5-ton chassis group was heating up.
By 1926, the 6-cylinder engine and high-speed vehicles (with top speeds about 35 to 40 mph) quickly were becoming the standard spec for the highways. An advertisement in the February 1926 CCJ by Ruggles Co. said that with its new Model 70 Fast Freight, "forty miles an hour with a 5-ton load is now possible with safety." The Ruggles Model 70 featured an "extra wide" four-man cab with two folding berths to provide "suitable accommodations for truckmen on long trips."
Trailers increased in use throughout the 1920s. CCJ included several case studies of fleets that were successful in using Fruehauf trailers to increase tonnage, save time and increase income despite having slightly higher operating costs than fleets that used straight trucks.
Extra conveniences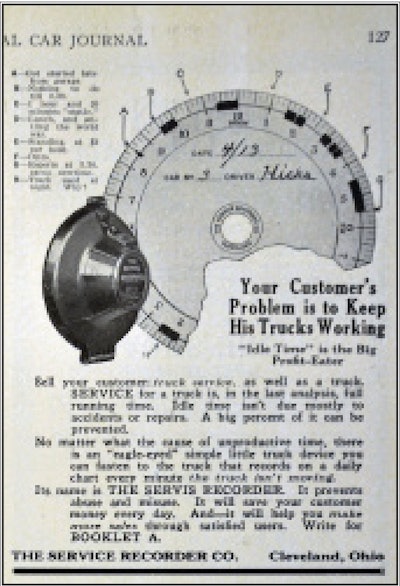 During the 1920s, all truck manufacturers sold models with an engine, chassis and, in most cases, a cab. Truck bodies, headlights, starters and many other details were left up to dealers and their customers to buy in the aftermarket.
CCJ issues in 1921 included several ads for governors to control speeding drivers. Oil lamps for headlights still were common in the early 1920s as companies advertised electric and acetylene gas-powered headlights. Ads for electric starters pointed out the waste of drivers idling trucks to avoid crank starting. Idling, which burns 1¾ gallons of gas per hour, can cost more than $100 a year per truck, according to an advertisement.
Several devices for fleet management appeared in the late 1920s. In November 1929, the Nafziger Corp. developed Idlestop, a device that automatically cut the ignition when the driver left the vehicle; the device used a contact switch placed under the driver's seat. Advertisements also were frequent for odometers like the so-called "Veeder meter" and tachometers that automatically recorded the time of day and duration trucks were idle.
In the hands of private fleets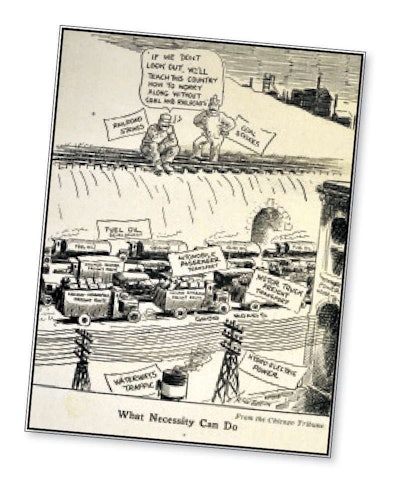 In the 1920s, motor vehicles were owned and operated primarily by shippers. In October 1927, CCJ reported that 82 percent of all commercial vehicle registrations were for private fleets, while 11 percent of motor truck registrations were classified as contract carriers that hauled goods between specified points at specified rates. Only 7 percent of registrations were for common carriers; of those, only 1.5 percent were for interstate common carriers.
Without offering their own prediction for the future of trucking, the editors of CCJ said "a topic of keen interest to transportation economists" was "whether trucking service by transportation companies will ever be developed to a point of efficiency sufficient to induce shippers to abandon their own trucks in its favor?"
A decade of mergers
Many commercial truck manufacturers merged during the 1920s. In December 1919, International Motor Corp. merged with Wright-Martin Aircraft Corp. and in 1922 changed its corporate name to Mack Trucks Inc. The largest and most notable mergers took place in 1928: Brockway Motor Truck purchased Indiana Truck Co., Corbitt Truck Co. merged with Sterling Motor Truck Co., and William P. Chrysler purchased Dodge Brothers and its truck division, Graham Bros.
Visit www.CCJ100.com for an in-depth timeline detailing news and events in the trucking industry from this decade and share your company's history.