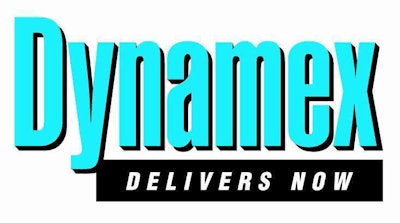 Dynamex Inc., a provider of same-day delivery and logistics services in the United States and Canada, on Wednesday, June 2, announced net income of $2.6 million for the fiscal year 2010 third quarter compared to net income of $1.6 million in the fiscal year 2009 third quarter.
"During the quarter, we saw a noteworthy improvement in sales, which increased 13 percent year-over-year and a substantial increase in operating income, which grew 53 percent when compared to last year," said James L. Welch, president and chief executive officer of Dallas-based Dynamex. "Also, for the nine months ended April 30, our operating income increased 7 percent over the same 2009 period, despite a slight decline in sales. We believe our efforts to optimize our cost structure continue to positively impact our operating results."
Welch said that while the company's fiscal third quarter results show an improvement over the same quarter last year, the 2010 quarter proved to be more challenging than expected. "First, excess capacity in the same-day transportation market continues to pressure pricing and margins," he said. "Second, severe winter weather interrupted operations in a number of locations for several days in February. Finally, while certain business sectors have shown signs of improvement, our industry has not yet experienced a similar level of recovery."
Sales were $104 million, representing a 12.8 percent year-over-year increase due principally to the stronger Canadian dollar, higher fuel surcharges and higher core sales. The stronger Canadian dollar increased sales about $7.1 million, while fuel surcharges were about $2.2 million higher and core sales $2.5 million higher. Core sales per day (sales excluding changes in fuel surcharge and foreign exchange) increased 1.1 percent; core sales per day increased 1.9 percent in the United States and were flat in Canada. Operating income was $4.1 million, an increase of 53 percent.
The company said long-term debt was zero at April 30, and cash flow generated from operations was more than sufficient to fund operations and capital expenditures. "We are confident in our ability to satisfy our capital requirements and maintain a healthy balance sheet despite the economy," Welch said. "Our debt-free balance sheet affords us the ability to focus our capital towards attractive growth opportunities and long-term profitability. We expect pricing pressure to continue over the near term, but are confident in the long-term prospects for our business, given our strong competitive positioning and business model."