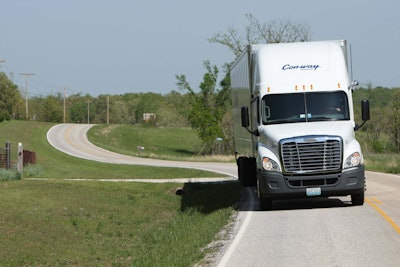 Con-way Truckload announced that it has been recognized with two annual performance awards from Transplace, a provider of transportation management services and logistics technology solutions. The company honored Con-way Truckload with its Best On-Time Service and Sustainability Excellence Awards as part of its 2009 Carrier Merit Program at the recent Transplace Shipper Symposium in Phoenix.
"All our performance awards were extremely competitive this year, especially in these two categories, but due to its outstanding service, Con-way Truckload emerged as a clear winner during our selection process," says Kyle Alexander, Transplace's director of strategic carrier development. "Con-way Truckload has worked hard to build their strategic value with Transplace, including their focus on sustainability, over the last several years. As such, we're pleased to recognize their effort with these two awards."
Criteria for the Best On-Time Service Award included moving no fewer than 1,500 Transplace loads over the past year and delivering best overall service. Con-way Truckload met those goals, moving 5,788 loads and achieving nearly 98 percent on-time pickup and delivery. To win Transplace's first-ever Sustainability Excellence Award required top marks from the U.S. Environmental Protection Agency's SmartWay Transport Partnership, of which Con-way Truckload is a member. The company also was selected based on sustainability accomplishments that included lowering its speed governors from 70 to 65 mph, transitioning to single wide-base, low rolling-resistance tires and specifying aerodynamic fairings.
"These awards demonstrate the success of our longstanding relationship with Transplace and the dedication of our employees to outstanding service," says Herb Schmidt, president of Con-way Truckload. "Our efforts toward on-time delivery and environmental sustainability are vitally important to everything we do, and it's a great honor to receive this recognition for the positive results we've achieved."
The Transplace Shipper Symposium takes place annually to bring together customers and carriers for seminars, speakers and other informational sessions. In addition to the presentation of service performance awards, this year's event featured speakers including executives from the American Trucking Associations and the Massachusetts Institute of Technology's Center for Transportation and Logistics.