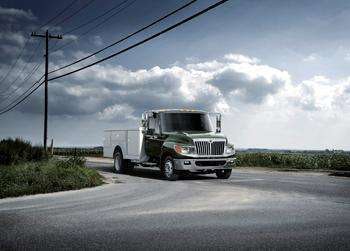 At the 57th annual Electric Utility Fleet Managers Conference in Williamsburg, Va., Navistar, Inc. showcased its commitment to the electric utility industry. On display at the event were several trucks, including the all-new International TerraStar Class 4/5 medium-duty truck, the Class 2-3c all-electric eStar truck and an International DuraStar medium-duty truck equipped with a natural gas conversion powertrain.
"Electric utility fleet managers have diverse business needs and are looking for a wide range of truck features to help perform their jobs," says Jim Hebe, senior vice president of North American sales operations for Navistar. "We're proud to offer one of the broadest, most energy-efficient lines of trucks in the industry, helping deliver real-world savings to the bottom line."
The International TerraStar Class 4/5 commercial truck has a wide range of commercial-duty features, from its commercial-duty MaxxForce 7 V-8 diesel engine to a large, roomy cab. The TerraStar truck on display at EUFMC features an Altec aluminum body, which is about 40 percent lighter than a typical steel body to help deliver fuel economy improvements.
"Our customers are making 'greener' decisions when purchasing trucks," says Justin Chandler, sales manager for Altec. "We continually see an interest in the all-aluminum bodies on Altec trucks, which reduce fuel consumption and emissions, something Altec customers rank as a high priority."
The International TerraStar features the International Diamond Logic electrical system, which is designed to maximize ease of body integration and help deliver a number of smart, customizable features for added convenience and safety, such as automated pretrip inspections, headlights on with wipers, interlocks, programmable switches and more, depending on the application.
"The International TerraStar is a product that has our customers in mind," Hebe says. "The industry has changed significantly in the past few years, and one constant is our customers asking us to provide a product to this market with a more commercial-duty design."
Navistar's all-electric eStar truck has received U.S. Environmental Protection Agency certification as a clean fuel fleet vehicle as well as California Air Resources Board certification as a zero emissions vehicle. This Class 2c-3 eStar all-electric truck has a range of 100 miles per charge, making it suitable for many urban applications. When it returns to its home base at the end of the day, it can be plugged in and fully recharged in about 6-8 hours.
The eStar has a low center of gravity – the battery is between the frame rails, not mounted on top – and a 36-foot turning circle, and is engineered with superior aerodynamics, a walk-through cab and a quick-change cassette-type battery that can be swapped out in 20 minutes, enabling around-the-clock operation. It is capable of carrying payloads up to two tons. The windshield provides nearly 180-degree visibility, the low-floor design facilitates easy loading/unloading, and the noise level is near zero, which makes the vehicle suitable for urban areas facing noise challenges.
Sales of the eStar all-electric vehicle are conducted through a wholly owned Navistar affiliate. The eStar truck is produced through the Navistar-Modec EV Alliance, joint venture between Navistar Inc. and Modec Limited of the United Kingdom.
During the EUFMC, Navistar demonstrated a natural gas powered International DuraStar vehicle that features a conversion kit developed by Emissions Solutions Inc. of McKinney, Texas. ESI offers conversions ranging from 175-300 hp with 460-860 lb.-ft. of torque and are capable of supporting both liquefied and compressed natural gas. Navistar soon will be making available for customer ordering through the Navistar Truck Specialty Center facility in Garland, Texas, a WorkStar model with a DT 466 engine, ESI natural gas conversion kit and either frame-mounted or back-of-cab-mounted natural gas tanks. The natural gas-powered DuraStar will be fully certified to meet 2010 emissions.
"The utility industry is very conscious about their public-facing environmental image," Hebe says. "Recognizing the domestic raw material advantage the United States and Canada share with natural gas resources, we felt very compelled to invest in our products in such a way that enables our customers to expand their usage of very low-emissions technologies through our engines."