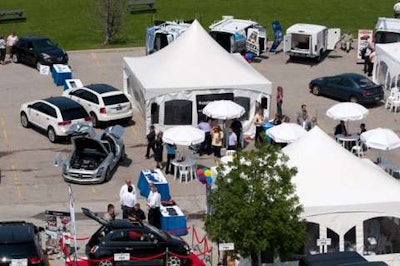 PHH Arval, a provider of fleet management services in Canada and the United States, hosted last week's 2010 Fleet Management Symposium and Ride & Drive event in Mississauga, Ontario. Attendees test-drove some of the industry's newest model vehicles, including 2011 model-year previews. Seventy new cars and light trucks from a variety of manufacturers were available to view and drive.
"This was a great opportunity to provide our clients with a truly interactive experience," says Jim Halliday, president of PHH Canada. "The Symposium featured industry-leading insights and best practices, while the Ride and Drive and Technology showcase gave attendees the chance to get hands-on experience with the vehicles and technology that are crucial to their success."
The symposium on fleet management began with a keynote speech by Benjamin Tal, senior economist of CIBC World Markets, who provided an analysis of the current state of the global economy. PHH Arval experts also addressed key issues affecting the fleet industry, including a macroeconomic overview and its impact on vehicle fleets; a manufacturing and used vehicle market update; and a case study on accelerated vehicle replacement.
PHH innovators demonstrated new PHH mobile and onboard technology at the Technology Pavilion. Many test-drive vehicles were equipped with PHH Onboard GPS telematics. PHH will provide a summary report of driving data collected from the event – such as most-driven vehicles/least driven vehicles, speed results, safety data and green driving behaviors – to event attendees.