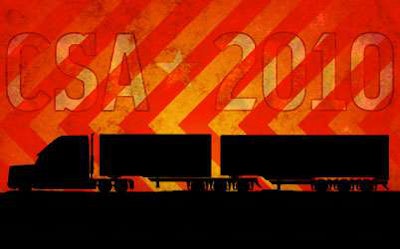 The American Trucking Associations supports Comprehensive Safety Analysis 2010 but has concerns with its current design and how these flaws will affect the industry and highway safety if not corrected, an ATA representative testified Wednesday, June 23, before a U.S. House subcommittee.
In testimony before the House Transportation and Infrastructure Subcommittee on Highways and Transit, Keith Klein said ATA fully supports CSA 2010's objectives of targeting unsafe operators, changing their behavior and removing the most egregious actors from the road. Klein said ATA also supports the CSA 2010 initiative because it is based on safety performance rather than compliance with paperwork requirements; it focuses limited enforcement resources on specific areas of deficiency, rather than on comprehensive onsite audits; and it eventually will provide real-time updated safety performance measurements.
"All three of these attributes address longstanding problems with the Federal Motor Carrier Safety Administration's current monitoring and enforcement program," said Klein, executive vice president and chief executive officer of Transportation Corporation of America. "FMCSA deserves to be applauded for its development and implementation of CSA 2010 to date. The agency has gone to great lengths to test the program, develop and implement an extensive outreach and education program, and demonstrated a willingness to accept stakeholder input."
However, Klein said ATA has a number of serious concerns relating to how CSA 2010 will work that, if not addressed, will have a dramatic impact on motor carriers and on highway safety. To address the primary concerns with CSA 2010, ATA recommends that FMCSA:
• Make crash accountability or "causation" determinations on truck-involved crashes before entering them into a carrier's record so drivers and carriers are held accountable only for crashes they cause;
• Use vehicle miles traveled (VMT), not number of trucks or power units, as a carrier's exposure measure; and
• Focus on using only actual citations for moving violations and not unadjudicated "warnings" issued by law enforcement.
The intent of raising these concerns is twofold, Klein said. "The first is a matter of safety, to ensure that unsafe carriers are selected for interventions, and the second is a matter of equity, to ensure that relatively safe carriers are not selected for interventions," he said.
Klein said that in addition to the primary concerns, ATA also is concerned about how the severity weights for violations are assigned; measuring carriers based on violations committed by drivers who since have been terminated; measuring carriers based on citations that have been dismissed in a court of law; inequitable measurement of open deck or flatbed carriers; overly broad peer groups; and inconsistent state enforcement practices.
"A system that is based on inconsistent data and a flawed scoring methodology will not achieve its objectives," Klein said. "Instead, it will create inequities for some safe carriers and inappropriately allow some unsafe carriers to avoid scrutiny and consequences."
To avoid these consequences, Klein recommended that FMCSA wait to implement the program after they have the opportunity to review an evaluation study of CSA 2010 currently under way by the University of Michigan Transportation Research Institute. FMCSA also must make the corrections based on ATA's three primary concerns before the initial implementation of CSA 2010 and before making the information publicly available, he said. "Any system based on evaluating motor carrier safety comparatively must be grounded in sound data, sound math and consistent measurements to be both equitable and effective."
FMCSA Administrator Anne Ferro defended CSA 2010 as a performance-based data-driven approach that strengthens how FMCSA determines motor carrier fitness and targets enforcement efforts against those operating unsafely. Ferro said the program was developed through input from many stakeholders and that FMCSA this month will complete its 2½ year nine-state field test of the program.
"Preliminary findings show that we achieved a 35 percent increase in investigations using this approach," she said. "We reached more carriers and did so with greater efficiency. And we have anecdotal evidence of carriers who examined and changed their business practices as the result of a CSA 2010 contact and improved their safety – further confirming the old adage 'What gets measured gets done.' "
When CSA 2010 goes live, FMCSA will begin using the Safety Measurement System in lieu of the current SafeStat to determine safety ratings for motor carriers. The SMS will create a monthly safety fitness determination for motor carriers based on seven Behavioral Analysis Safety Improvement Categories (BASICs).
The rollout for CSA 2010 officially began in April with the launch of the data preview. Ferro said the actual safety measurement system will be previewed in late August, followed by full view to the public at the end of the year; remaining components – warning letters, NPRM, intervention process and more – will continue to the end of fiscal year 2011. "By that time, CSA 2010 will be known only by its initials – CSA – Compliance, Safety, Accountability," Ferro said.
Stephen Keppler, interim executive director for the Commercial Vehicle Safety Alliance, said the group strongly supports the CSA 2010 concept and credited FMCSA for moving it forward. "With a program of this size and scope, there are bound to be some bumps along the way," said Keppler. "The key to success is to keep an open line of communication and for FMCSA to work together with the states, industry and other affected parties to ensure they are fully aware of what is happening and when."
Keppler said CSA 2010 offers significant promise to transform compliance and enforcement activities to be more surgical in nature and to allow for more proactive safety interventions with motor carriers – which will ultimately save more lives – and it also is consistent with one of CVSA's major DOT reauthorization priorities: to streamline the compliance review process to make it more effective, as well as to establish a better safety rating process for motor carriers.
Keppler also urged Congress to ensure there are adequate resources for increasing safety on U.S. highways and that passing a long-term transportation bill as soon as possible is critical. The CSA 2010 initiative requires a long-term federal investment and needs to be resourced appropriately at both the federal and state levels for it to be successful, Keppler said. "A glimpse of the additional resources needed at the federal level for CSA 2010 is evidenced by the president's request for an additional $20 million beyond SAFETEA-LU authorized limits for his fiscal year 2011 budget for the purpose of rolling out CSA 2010," he said.
The CSA 2010 experience through nine pilot states is having a positive impact and is being received well by both enforcement and industry, Keppler said. "We fully understand why FMCSA recently announced that they are modifying their timelines for implementing this program and fully support their doing so," he said. "A program of this size and scope needs careful planning, as well as input from all affected parties. Throughout this process, FMCSA has been listening to us and others, and we appreciate them doing so. While we understand that schedules and timelines must be set to allow for proper planning and budgeting, we do not believe timelines should be set for the sake of timelines. We need to be realistic about what our expectations are and communicate them to all who have a need to know."
Keppler said CVSA sees several key issues that need to be resourced appropriately to the states, including training, work force adjustments, information technology changes/upgrades, roadside inspections, data challenges/adjudication and grant-related changes. States would like to be more informed on items such as implementation; program funding and its impact; and schedule, deliverables and timelines, said Keppler, adding that another key issue is whether FMCSA will be able to implement the information systems and software changes to support field operations in a timely manner.