The third in a series of quick peeks into the world of commercial vehicles through the lens of Commercial Carrier Journal
Retrospective 1930 – 1939
Who'll haul the brews?
In 1933, President Franklin Roosevelt signed the 21st Amendment into law ending Prohibition. The legislation was a much-needed shot in the arm for the trucking industry, with CCJ noting that beer sales and delivery represented "a potential dollar value to the industry of 32 to 42 millions of dollars."

But the trucking industry also was caught flatfooted by the 21st Amendment. Trucking was in its infancy when alcohol sales were outlawed in 1920. Now, 13 years later, CCJ Editor George T. Hook observed that "Transportation is the biggest problem confronting brewers at the moment. Most of them have been caught with truck equipment that is far from modern, and practically all of them are lacking in a sufficient number of trucks to take care of the public demand for the new beverage."
Management dashboards, '30s style

The Holy Grail of information technology is to give fleet managers full visibility into every facet of the operation – maintenance, safety, efficiency and so on. The notion is that a manager or executive literally could run the entire operation just by sitting at his desk.
This isn't a 21st century concept. Nor does it date back to the '90s, '80s or even the '70s. Try May 1931; that's when CCJ published an extensive article on the power of recorders. Among the extensive list of information items recorders could provide were:
· A running check on the cost of truck operation;
· Checking idling periods to save gas and engine wear and tear;
· Monitoring delays at shipping and receiving platforms;
· Thwarting overspeeding by balancing city routes;
· Tracking drivers' work hours; and
· Benchmarking delivery routes for time.
Of course, not everyone was a fan of the recorder. "In some places, the driver is a pretty independent guy who knows what he wants and what he doesn't want. And he doesn't want a recorder or anything else that will keep tables on his movements." Fortunately, today's drivers are much more mature and professional than that.
Tough times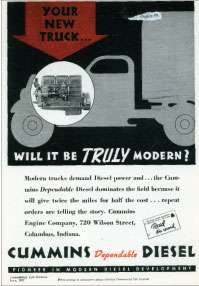 The 1930s started on a bad note for CCJ readers, as the economic recession brought on by the 1929 stock market crash evolved into a full-blown depression. But in spite of the tough times, trucking as an industry was evolving and maturing rapidly.
At the beginning of the decade, chain-drive trucks and gasoline engines still were commonplace. In 1933, however, Cummins introduced an all-new diesel engine specifically engineered for commercial trucks. Sales initially were slow – more an indication of the hard times than a commentary on the new technology. But once truck fleets experienced diesel power firsthand, there would be no going back.
Still trucking
Although the industry soon would move to diesel power, 1933 also saw the launch of Ford's legendary V-8 gas engine – a revolutionary technological advance that is a mainstay of automotive and light truck powertrains even today.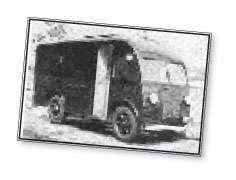 A giant is born
A familiar industry icon also got its start in the 1930s. United Parcel Services – a small urban delivery company "which operates in New York City, Cincinnati and the Pacific Coast as contract delivery for department stores" – made news in CCJ by developing its own package truck. The new design, which weighed 4,800 pounds and boasted 332.4 cubic feet of cargo space, was the forerunner of today's familiar-looking fleet of brown delivery vans.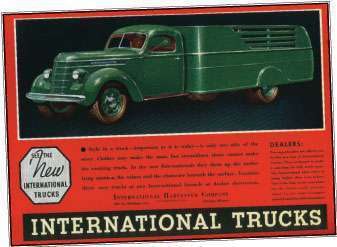 One tough truck
International continued to refine its product lines as the 1930s progressed – including this six-wheel all-steel "armor body" dump truck.
Visit www.CCJ100.com for an in-depth timeline detailing news and events in the trucking industry from this decade and share your company's history.