Mobile computers become more versatile, personal and cost-effective for fleet management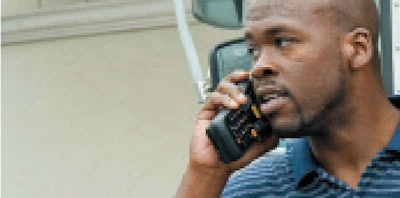 A customer calls with an urgent request: Move 10 truckloads from separate locations across the country to a central warehouse, and once the freight is sorted and cross-docked, transport the individual pallets and parcels to hundreds of locations. The customer requires electronic capture and transmission of status updates and delivery details — including pictures of any damages — of each pallet and package. The loads must start moving by tomorrow.
Missing some of the technology needed to fulfill this request, you have to decline the offer. But your much smaller competitor is able to locate truck capacity, dispatch drivers, track shipments and capture all delivery details quickly and electronically by using technology that many drivers already own.
If the above scenario hits close to home, consider this: By 2013, mobile devices will overtake PCs as the most common Web access device worldwide, according to technology research firm Gartner. Millions of people, including thousands of truck drivers, now use smartphones with satellite tracking, Web browsing, high-resolution cameras and other high-tech core components.
With applications already available for smartphones, drivers can post equipment and search for loads, submit electronic vehicle inspection reports, automate hours-of-service and fuel tax compliance, receive training, track load status and capture electronic signatures for proof of delivery, among other high-tech capabilities.
Tapping the smartphone
FTL Logistics currently uses an automated phone system to track its shipments, but its plans include much more. Carriers that haul loads for the Sallisaw, Okla.-based company contractually are obligated to call a phone number at pickup, during delivery and for any exceptions along the way. The phone system, designed by uFollowit, is integrated into FTL's back office via Web services. FTL can monitor load status and receive alerts for any exceptions electronically, says Willis Johnston, manager of carrier and agent relations.
The phone system is a one-way communication link to carriers, but FTL is beginning to leverage a smartphone application developed by uFollowit. "What we are hoping to do is to get as many carriers as we can to make the conversion," Johnston says. "Everyone is carrying around smartphones."
Using drivers' smartphones and the uFollowit app will help FTL shorten its order-to-cash cycle. The uFollowit app captures driver, truck, trailer and other information that some FTL customers need to know in advance of releasing a load for pickup. The app also includes electronic signature and document image capture. "The goal is to go paperless with everything," Johnston says. "As soon as a load is delivered, we've got proof."
Not all handheld devices are created equal; despite the versatility and relatively low cost of smartphones, few of these devices are suited for a rugged environment such as transportation. Honeywell, Intermec, Motorola and Panasonic are the major manufacturers of industrial-strength handhelds; their latest models use the longstanding Windows Mobile platform rather than popular consumer platforms such as the Apple iPhone, Google Android and BlackBerry.
These rugged devices cost significantly more than consumer phones, but experts say the additional investment can be recovered over a three- to five-year period. Within this lifecycle, consumer devices end up costing up to three times as much as an industrially designed device when considering hardware failures, additional IT support and device management, according to Venture Development Corp., an independent technology market research and consulting firm.
"A consumer device will not last for the expected lifetime of the solution," says Jeff Sibio, director of industry marketing for Intermec Technologies. "You end up getting a lot of surprise costs." Industrial devices also have integrated barcode scanners, advanced wireless capabilities and imaging technology unavailable on many consumer devices.
Companies that develop transportation-specific software for these rugged Windows Mobile devices have created simple, intuitive workflow applications for drivers. These applications integrate the latest data-capture technologies and prompt drivers to enter data only at the appropriate time and place, thus allowing fleets to block unproductive — and potentially dangerous — features such as texting and e-mailing.
By 2013, mobile devices will overtake PCs as the most common Web access device worldwide.
Motorola enhanced the user interface of its Windows Mobile devices such as the MC9500 to allow customers to personalize the devices for drivers. Later this year, Motorola devices will incorporate more features such as touchscreen displays with popup screens and checklists to prompt drivers to capture data at the right moment to make data entry more intelligent and intuitive, says Mike Maris, senior director of transportation and logistics for Motorola's industry solutions group.
Low-cost communications
Messaging is the core function of any mobile computing platform. The same type of integrated messaging available from onboard computing and dispatch software providers can be deployed on cell phones for a lower cost.
In October 2007, McLeod Software announced mPhone, a service provided through Qualcomm available on the Sprint-Nextel network that costs between $10 and $16 a month for an unlimited data plan. The mPhone's integrated messaging and tracking features and McLeod's LoadMaster enterprisewide fleet management software work the same as any onboard system. The only exception is that the mPhone isn't capable of handling automated arrivals and departures.
Chicago-based intermodal operator C&K Trucking uses the D2Link application from TMW Systems to send detailed, personalized trip schedules of all daily pickups and drops directly from its dispatch software to each of its 100 company drivers and 400 owner-operators. Drivers automatically update the company's dispatch software when they complete an electronic form through the D2Link application at each pickup and drop.
To catch information that a driver does not enter correctly — or even at all, such as a container number — C&K Trucking uses an exception management tool called the Dawg to correct the information before it enters its TMW dispatch software.
Using handheld devices to automate data capture and messaging is only the tip of the iceberg. To maximize the savings from using the technology, fleets can deploy the devices as part of a fleet routing, scheduling and dispatch optimization system.
VinLux Transport, a fine wine delivery service operated by Napa, Calif.-based Biagi Bros., uses Cheetah Software to optimize its daily delivery routes for 700 orders per day to wine merchants throughout California. VinLux operates a 35-truck fleet of 16-foot temperature-controlled vans.
Before using Cheetah Software to optimize its routes, VinLux already was using Motorola phones and the Sprint-Nextel network to communicate with drivers. Because the Cheetah Software could be installed on the company's own hardware and increase productivity with minimal upfront cost, "the decision was easy," says Nick Biagi, director of information technology.
Drivers use the Cheetah application only while the vehicle is stopped at customer sites to capture details such as arrival notices and delivery quantities. Having GPS in the phones eliminates the need for drivers to send status updates and allows them to focus on driving as opposed to sending messages, Biagi says.
Cheetah Software recently developed an application for BlackBerry smartphones that features digital signature capture and camera functionality. The BlackBerry platform is capable of working in a commercial environment and runs on multiple wireless networks, says Stephan Karczag, vice president of sales and marketing.
Leveraging the onboard
Despite the versatility and expanded features of smartphones and handheld computers, they lack a key function. Many fleet executives and managers prefer having their onboard computing platforms fix-mounted to vehicles to track location and capture data from engines.
Some platforms let fleets have the best of both worlds for a low startup cost. Xata Turnpike offers RouteTracker, a Web-based fleet management system that uses a small device onboard the vehicle to combine GPS tracking, engine diagnostic reporting, electronic logbooks and other features.
Xata Turnpike's onboard device uses short-range Bluetooth wireless to transmit and receive data from an application that runs on a Java-enabled cell phone or Windows mobile device. The company offers RouteTracker for $35 a month with no upfront hardware costs.
Xata Turnpike is designed for upward mobility, says Mark Cunningham, vice president of sales. A fleet that wants to implement electronic logs may decide to use a $50 Motorola phone. Six months later, the company may want to upgrade to a BlackBerry device to add more messaging capabilities, or later to an Intermec mobile computer to add barcode scanning and in-cab navigation.
C&K Trucking implemented Xata Turnpike along with BlackBerry devices to capture pretrip inspection reports from drivers, automate hours-of-service and fuel-tax compliance, and manage driver safety and fuel performance. The company also uses TMW's D2Link on its BlackBerry 8530 phones to communicate with drivers and automate data capture from the field.
D2Link, which was released about five years ago, originally was designed for rugged phones with low-cost data plans. TMW since has come out with a fix-mounted device for customers that want to add vehicle tracking, engine data and electronic driver logs.
Last year, J.J. Keller & Associates released an onboard recorder and Web-based reporting and management system. Keller Mobile, which communicates via Bluetooth with any number of Windows Mobile handheld devices, recently added electronic vehicle inspection reports to its suite that also includes electronic driver logs, IFTA fuel tax and driver performance reporting.
By leveraging some of the latest hardware and software platforms for mobile devices, drivers and fleets are able to both expand their technology resources and minimize cost. n
There's an app for that
What can you and your drivers leverage from the iPhone?
Judging by early activity, the iPhone is the current smartphone of choice for truck drivers. As such, technology vendors have created several iPhone applications designed to improve driver productivity, compliance and convenience.
About two years ago, uFollowit created an app for the iPhone to track freight and manage documentation by collecting and distributing instant proof of delivery of shipments. GPS-based load searching and posting to freight matching services was another one of the first trucking-specific apps for the iPhone.
Online load board and freight matching service provider Getloaded.com recently released an iPhone app called iGetloaded that uses the smartphone's GPS to search for loads leaving near the driver's vicinity. The driver can call a load poster directly from the search results.
PCS Software released iLoadfinder for drivers to search for loads on the company's XpressTrax Loadboard (www.xpresstrax.com), and the company soon will release a fleet management app for the iPhone called Mobile Express that will be integrated fully with PCS Software's Xpress transportation management system to provide GPS tracking, load assignments, status updates, mapping and routing, signature capture and electronic logs.
Internet Truckstop affiliate uDrove recently released a compliance management tool for GPS smartphone platforms from BlackBerry, iPhone and Android. The application replaces in-cab paperwork by enabling owner-operators, company drivers and fleets to keep an electronic log of hours of service, track mileage for tax purposes, record fuel and business expenses and electronically complete and submit vehicle inspection reports and PODs.
The Internet Daily Driver Logs (iDDL) electronic logs application from iCooper already is used by more than 1,000 drivers, but the current 2.0 version of iDDL, which can tell when the vehicle is moving, is not synced electronically to the vehicle. Version 3.0, scheduled for release this fall, will be networked to an onboard recorder. Additional components of iDDL include vehicle inspections and the ability to capture mileage and trip expenses. The company also offers iPhone apps for invoicing, customer signature capture, load acceptance and proof of delivery.
ACS TripPak's new TripPak Mobile uses uFollowit's smartphone technology to provide drivers a new and convenient means of capturing documents at any time while on the road. Drivers can submit their paperwork remotely using a smartphone camera and a specially designed clipboard. The captured documents are sent through the ACS TripPak processing portal, which records the images and forwards them to the appropriate department within a specific fleet for processing. TripPak Mobile is set for release through Apple's iTunes App Store later this month.
"A large percentage of the industry hasn't made the hardware investment as larger fleets have for in-cab technology," says Mitch Hixon, ACS TripPak vice president of sales. "The smartphone gives flexibility in a cost-affordable way to have technology."
Instructional Technologies recently converted its computerized Pro-Tread driver training modules to the iPhone. The smartphone's touchscreen functionality helps engage the driver in the learning experience, says Jim Voorhees, president and chief executive officer. Individual Pro-Tread training modules soon will be available from the App Store to download. A fleet manager will be able to send a text message to a driver to complete a lesson on defensive driving, and as the driver downloads and completes the lesson, the fleet manager can track the driver's progress through a separate Web-based Pro-Tread application.
ALK Technologies' CoPilot Live Truck v8 truck-specific navigation software is available for download from the App Store and is designed for hands-free operation with a voice-guided system. Unlike consumer navigation apps, CoPilot Live takes into account height, weight and length limits, as well as hazmat and other environmental restrictions.
In April, Randall-Reilly Business Media and Information – the parent company of CCJ – released an iPhone app called Truck Stop Coupons. Truckers and other motorists can locate, clip, print and share coupons from more than 5,000 truckstops across America. The app was developed in conjunction with Salebug.com and ProMiles and is downloadable for free from the App Store.