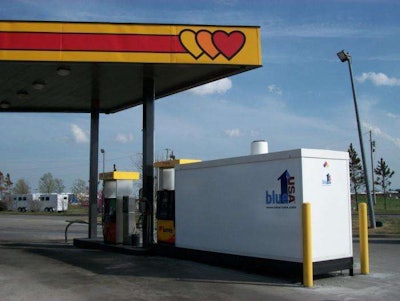 Love's Travel Stops announced Friday, July 9, that it has begun installing diesel exhaust fluid storage and dispensing systems at its fuel islands across the country.
"We have evaluated a variety of DEF systems over the last two years and found Blue1USA to have the best equipment that meets the needs of our customers," says Terry Ross, vice president of construction and environmental services for Oklahoma City-based Love's. Ross says the storage systems allow Love's to purchase DEF in larger volumes at a significantly reduced price. "We then pass that savings on to our customers," he says. "In response to our customer's growing DEF demand, we will be adding these bulk dispensing systems at key locations within our network on a regular schedule moving forward."
DEF, one of the key elements in the selective catalytic reduction process, is a nontoxic solution of 67.5 percent purified water and 32.5 percent urea. When injected into a diesel vehicle's exhaust, the DEF helps convert harmful NOx emissions into harmless nitrogen and water. DEF is stable, colorless, odorless and meets accepted international standards for purity and composition.