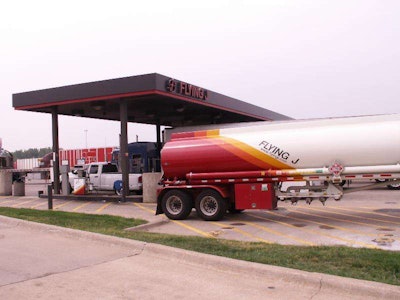 Pegasus TransTech announced Thursday, July 8, that Transflo Express truckstop scanning now is available at 164 Flying J locations in the United States and Canada. The project was completed one week after Pilot Travel Centers announced the sale of the Flying J Scan & Go assets to Pegasus TransTech.
Transflo Express will be installed in more than 50 additional Flying J locations by the end of the month. The 50 additional Transflo Express scan stations will be installed in locations that previously did not operate Flying J Scan & Go Xpress.
Pegasus TransTech's truckstop scanning network includes more than 700 locations throughout the United States and Canada, including all Pilot Travel Centers, all Love's Travel Stops, Pilot Flying J travel stops and many independent locations.
"With Transflo Express available at more than 700 locations, Pegasus TransTech offers drivers and fleets the most convenient and cost-effective scanning network," says Bob Helms, chairman and chief executive officer of Pegasus TransTech.
Transflo Express provides same-day access to delivery documents to speed cash flow for fleets and drivers. Documents are sent electronically to the fleet for immediate billing and payroll processing.