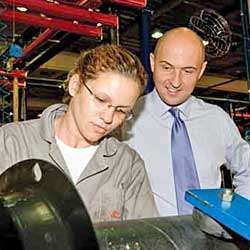 SAF-Holland S.A., a global manufacturer and provider of systems and components for commercial trucks and trailers, on Tuesday, July 13, said it has recorded increasing utilization of its production capacities since the beginning of the year, and that it has taken on 83 new industrial employees for plants in Keilberg, Frauengrund and Wörth am Main.
"We are receiving an increasing number of orders, and additional production shifts are needed," says Steffen Schewerda, member of the company's executive board and responsible for SAF-Holland's production worldwide. "We are pleased to announce that we have been able to rehire some of the employees laid off in 2009."
SAF-Holland says that in North America, more than 100 production workers have been added to its work force since the beginning of the year. According to the company, research institutes maintain a positive outlook for the logistics and commercial vehicles sector in Europe and North America, and that due its market share in these regions, SAF-Holland expects to benefit from the upturn in the market.
"Looking ahead, an annual increase in transport volume of 10 percent is generally expected in the industry over the next five years," says Wilfried Trepels, chief financial officer.