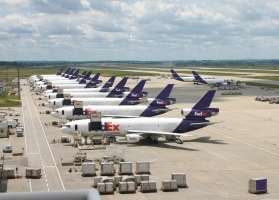 FedEx Express announced that it has won the Institute of Transport Management's "Best Global Cargo Hub" award for its Memphis World Hub. The Memphis hub, the centerpiece of the FedEx global distribution system, was given the award for standing as a shining example of delivery and distribution professionalism. The judging panel cited in particular its achievement of successfully uniting the disparate capabilities of the city of Memphis (road, rail, river and air) to create a linchpin of trade within the United States.
"The FedEx World Hub in Memphis is the centerpiece of our global distribution and delivery operations," says John Dunavant, vice president of Memphis World Hub. "We are proud to win this award, and it is a testament to the hard work of our employees at the hub and around the world, as well as to our commitment to our customers in offering an outstanding and reliable service."
The Memphis World Hub connects customers to more than 220 countries and territories on six continents. Situated on about 727 acres, the facility operates with a work force of more than 15,000 people. More than 5,000 flights pass through the hub each month.
The hub's sorting system contains more than 300 miles of conveyor belts capable of processing about a half million packages per hour. The small-package sort system processes up to 325,000 per hour, while the box sorting "matrix" system processes 160,000 per hour. Overall, more than two million packages move through the Memphis hub each business day.
"Fast, secure, reliable and cost-effective cargo delivery is vital for our 17,500 members across the different sectors of the transport industry," says Patrick Sheedy, media and public relations director for the Institute of Transport Management. "They need to be able to rely on a global provider of such services who can deliver on time, anywhere and with an assurance of safe delivery – all at a price which adheres to budgetary constraints. I am pleased to be able to say that we have over a period of time received highly positive feedback from our members about FedEx Express."