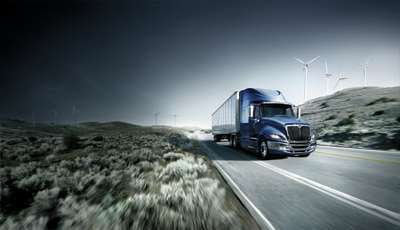 Navistar this week announced that a third-party test it commissioned shows the 2010 International ProStar+ with MaxxForce 13 Advanced EGR engine leads all Class 8 trucks in "fluid economy" – a measurement of diesel fuel plus liquid urea consumed.
Navistar's says its International ProStar+ consistently outperformed competing trucks by nearly 1 to 2.5 percent in efficiency measuring diesel and urea, which is used in selective catalytic reduction technology employed by other truck engine manufacturers.
"With the ProStar+, we continue to have the most efficient Class 8 truck on the road," says Jim Hebe, Navistar senior vice president for North American sales operations.
Until recently, comparisons of Class 8 trucks were centered on fuel economy. Today, with different trucks offering different technologies for 2010 emissions, fuel economy doesn't tell the whole story, Navistar officials say. Competitor trucks offer a liquid urea SCR solution to meet U.S. Environmental Protection Agency 2010 emissions requirements. Navistar is the lone manufacturer choosing exhaust gas recirculation technology.
Navistar commissioned the Transportation Research Center Inc. in East Liberty, Ohio, to conduct a head-to-head fluid economy comparison. TRC performed independent Technology & Maintenance Council Type 4 testing of three EPA 2010-compliant trucks: International ProStar+, Freightliner Cascadia powered by the Detroit DD15 engine and a Kenworth T660 powered by a 15-liter Cummins ISX, both with liquid-urea SCR.
The engines were rated with comparable horsepower and torque. Navistar executives chose versions of their competitors' trucks that dealers noted as the most fuel-efficient powertrain packages available.
Only one tank of diesel per truck was allowed, and each ran three 444-mile routes on public highways. Drivers and trailers were switched at the mid-point of each test.
For more information on the testing and results, go to www.internationaltrucks.com/results.