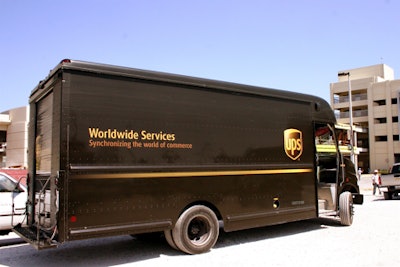 UPS has set a new automotive goal to improve the miles per gallon (MPG) performance of its entire U.S. package delivery fleet by 20 percent between 2000 and 2020. The new goal builds on gains UPS already has made by increasing its U.S. MPG 10 percent between 2000 and 2009 and applies to a U.S. ground fleet of 60,000 vehicles.
"Our automotive efficiencies over the last decade show a genuine commitment to conserving fuel and decreasing the emissions associated with the packages we deliver," says Bob Stoffel, senior vice president and the executive responsible for the Atlanta-based company's sustainability program. "This new goal for the next decade is an important milestone in UPS's continuing dedication to finding and using new technology and processes that help us meet our customers' needs in a sustainable way."
UPS says that in 2009, its drivers logged 77.3 million more miles than in 2000, yet fuel consumption decreased by 3.2 million gallons. Fuel efficiency levels were improved through improved vehicle technology, effective vehicle maintenance procedures, fuel conservation efforts, sophisticated routing technology and operational initiatives such as minimizing engine idling. Alternative fuel technology and vehicle deployments also improve UPS's fuel efficiency.
UPS last year deployed 245 new "green" vehicles running on compressed natural gas, adding to a fleet of nearly 2,000 alternative fuel vehicles.