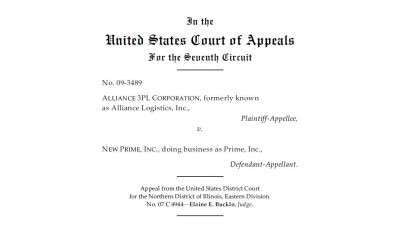 A federal appeals court on Aug. 2 overturned a jury verdict that had ordered Prime Inc. to pay third-party logistics provider Alliance 3PL Corp. about $2.2 million in damages for back-solicitation of a customer Prime had served under contract with Alliance.
The U.S. Court of Appeals for the Seventh Circuit ruled that because Prime had served the customer, Loders Croklaan USA, directly between 1998 and 2003, the Springfield, Mo.-based trucking company obviously already was aware of the existence of Loders' freight and, therefore, wasn't back-soliciting the business. Indeed, Prime had argued that it didn't solicit the business at all and that Loders had taken the initiative after the contract between Alliance and Loders expired in 2007. But the appeals court allowed that the jury reasonably could have determined that this distinction didn't matter. Even granting Alliance this concession, however, the court found for Prime.
The appeals court's ruling turned on the meaning of the word "traffic" in the Prime-Alliance contract. Prime argued that "traffic" was just that – any amount of transportation – and that clearly the carrier knew of Loders' existence since it had hauled for the shipper before. Alliance, however, contended that "traffic" meant the volume of transportation services that the shipper required, which Prime didn't enjoy until it started working through Alliance.
Saying the term "traffic" was ambiguous, the district judge had denied Prime's bid for summary judgment and left the question to the jury. The appeals court, however, said that there was no evidence that the word had any other meaning in the contract than the straightforward definition that favored Prime's case. Prime, therefore, should have been granted summary judgment, the appeals court said.
A copy of the opinion is available on the Seventh Circuit's website.