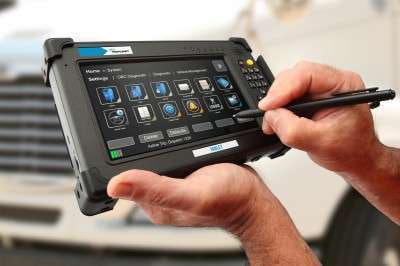 PeopleNet, a provider of integrated onboard computing and mobile communications systems, announced the launch of PeopleNet Tablet, an optionally portable onboard computer that eliminates the need for additional hand-held devices in the cab.
In making the announcement, CEO Ron Konezny explained that PeopleNet Tablet is a response to the transportation industry's demand for faster workflow and a shorter accounting cycle.
"Fleet owners and managers who want to improve performance and cash flow will see this optionally portable onboard computer system with exceptional built-in capabilities as a way to enable drivers to work in virtually any environment while combining the traditional fix mount systems and handheld computing systems. Drivers themselves will appreciate having more drive time behind the wheel instead of handling administrative activities in the cab. Tablet gives them the flexibility to handle non-driving tasks, outside of the cab, from any location."
PeopleNet's new onboard computing platform captures critical vehicle and driver management information that can integrate with the back office. Through its rugged design and seven-inch touch screen, it combines traditional in-cab functionality such as In-Cab Navigation, Vehicle Management (engine diagnostics), eDriver Logs, in-cab training, driver email and messaging, geofencing and more with portable options like a camera, barcode scanner, signature capture, and wi-fi to speed up workflow, improve customer service and enable drivers to be more efficient, the company says.
Tablet uses a Windows 7 operating platform, which opens up the computer to a wide range of peripherals, document formats and advanced applications.
Some of the specific features of Tablet that provide workflow and cash-flow advantages include:
• Optional built-in barcode scanning identifies overages and shortages immediately.
• An optional built-in camera for drivers to photograph damaged goods and send photos to expedite replacement shipments for better customer service and faster billing.
• Maintenance managers have access to DVIRs quicker giving them visibility to potential problems.
• Wi-fi provides faster data downloads and hot spot access to save communication costs, as well as Internet browsing. Web browsing through wide area cellular networks will be available in 12 to 18 months.
• Built-in signature capture conveys proof of delivery to the back office for faster invoicing and shorter Day Sales Outstanding (DSO).
• Eliminate out-of-route miles and reduces fuel consumption with In-Cab Navigation.
In addition to a docking station for in-cab use and an option for hard mounting, Tablet comes with both soft and hard keyboard options.
Tablet will first be commercially available Q1 2011. Because of some further development work required to use the portable Tablet device for electronic logging, PeopleNet will initially release Tablet as a fixed-mount device. The portability option will be available soon after, says Brian McLaughlin, chief operating officer.