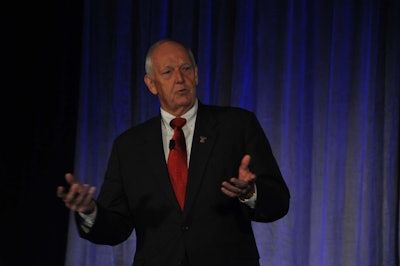 American Trucking Associations Chairman Tommy Hodges on Thursday, Aug. 26, offered a guarded assessment of the trucking industry during the Commercial Vehicle Outlook Conference in Dallas.
About 5,500 carrier failures have led to nearly 200,000 fewer trucks in the marketplace. This tightening of capacity and stronger consumer confidence has Hodges more optimistic for the short-term outlook.
As for the economic downturn, "we've hit the bottom," Hodges said. "We are in a replenishment mode. We have hit the bottom in consumer confidence, and consumers are feeling better." As for the long term, Hodges pointed to various think-tank groups that are forecasting a 30 percent increase in freight tonnage over the next decade.
The trucking industry does face some regulatory challenges in the next few months, Hodges said. He would like to see highway reauthorization at the top of the list of important matters, but he sees cap-and-trade, truck size and weight, electronic onboard recorders, Comprehensive Safety Analysis 2010 and the revamped hours-of-service rules as the current hot-button issues for the trucking industry.
Hodges briefly outlined each issue:
• Proposed cap-and-trade legislation that could put a 47-cent increase on refineries will have a residual effect on trucking, he said.
• Hodges said legislation concerning size and weight of trucks is the most decisive issue for the industry, and it's difficult to get a consensus.
• As for EOBRs, "Get ready for them," he said. "They are coming." This could result in a $1,750 price increase for each truck.
• Hodges called CSA 2010 "free agency for drivers," as it puts drivers with good safety records in the driver's seat to make wage and benefits demands on trucking companies.
• Hodges expects the rewrite of the HOS rule to create a productivity hit on the industry. He said driving time may be reduced by one or two hours per day, and the industry could see the loss of the 34-hour restart provision. "This could mean an 18- to 19-percent loss of productivity if we lose two hours of driving time."