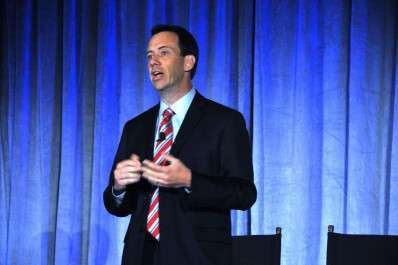 During a presentation at the Commercial Vehicle Outlook Conference in Dallas, Rob Abbott, American Trucking Associations' vice president of safety policy, reviewed a number of safety-related issues facing the trucking industry, including Comprehensive Safety Analysis 2010 (CSA 2010), electronic onboard recorders (EOBRs) and the pending hours-of-service rulemaking.
"CSA 2010 is a step in the right direction," said Abbott. "It's a positive well-thought-through program. It does a lot of things that the industry and ATA has asked for over the last 15 years," including performance-based analysis, real-time compliance measurements and a focus of limited enforcement of resources. "FMCSA is to be applauded for listening to the industry … and making a genuine attempt to address some of the issues that we've raised."
Abbott went on to highlight some of the remaining issues ATA has with the new system, including crash causation, inappropriate severity weights, variability in state crash reporting and measurement of flatbed carriers. "We've been calling on FMCSA to remove from consideration crashes that weren't the carrier's fault or couldn't have been prevented," Abbott said. "The FMCSA has demonstrated a willingness to look at this issue and have committed that eventually they will do so, but have indicated that their process to do that would be tied to a future rulemaking on making using CSA 2010 to assign safety fitness determination ratings. There are a few things that have to be improved in the program if it is going to work appropriately and effectively identify unsafe carriers."
On the issue of an upcoming hours-of-service rule, Abbott speculated that possible changes could include reduction in driving time, mandatory rest breaks, nighttime restrictions, longer restarts and sleeper berth flexibility.
Reducing driving time would increase new driver entrants to the market, which poses a potential safety issue, Abbott said. "If you have to add new drivers, you're adding inexperienced drivers who are potentially more crash-prone."
Abbott discussed concerns with a proposed EOBR mandate expected by the end of the year that potentially could broaden the scope of the current mandate to include new entrants and hazmat carriers. "Based on pressure from Congress and the National Highway Transportation Safety Board, this mandate will be far broader than that."
Issues that Abbott believes the industry will face in the near future include a formal texting ban with specific penalties for drivers and a proposed rule on handheld cell phone use and other distracting devices.