The fifth in a series of Quick peeks into the world of commercial vehicles through the lends of Commercial Carrier Journal
Retrospective 1950 – 1959
Happy days behind the wheel
Ah, the 1950s, those carefree days where the nation had left the horrors of World War II behind and the struggling economy of the Great Depression was nearly a distant memory of a previous generation. In the years between the end of the Korean War in 1953 and the beginning of the Vietnam War in 1959, life was good (well, there was that Red Scare stuff, Cuba's arrival on the global scene and fear of falling behind in the Space Race, but let's not dwell on the negatives).
The economy was clicking, Dad had a great job, Mom was home baking apple pies and their two kids were off to school in the mornings, coming home in the afternoons to study and spending their free time at the malt shop sipping sodas with their friends and spinning some new 45s with fun, more uptempo rhythms – they called it rock 'n' roll.
Advertisements in CCJ seemed to reflect the decade's aura of pleasant conformity and conservatism. In editorial and advertising illustrations, truck drivers are shown to be well-groomed, well-dressed in company uniforms and generally as proud to be behind the wheel of a big rig as the dapper Frank Sinatra was to appear on the covers of his top-selling albums. When it came to handling trucks for the nation's haulers, only professionals were to apply – there was no room in the cab for ruffians like James Dean or Arthur Fonzarelli, aka "The Fonz."
Life is a highway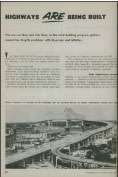 In 1956, the Federal Aid Highway Act authorized the development of the Interstate Highway System and set up the Highway Trust Fund to finance 90 percent of the construction cost for the 42,500-mile highway network. The project, the largest construction venture ever undertaken, would change the way Americans traveled and also would have mammoth productivity benefits for the trucking industry. Hauls previously limited by 10-hour driver days now could be longer because of speedier routes and easier traveling. Routes that required lengthy driving in lower gears nearly were eliminated, as was stop-and-go traffic – well, for a couple of decades, anyway.
Original estimates to build the Interstate System were $53 billion – a figure that swelled to $114 billion by 2006.
Smarter parts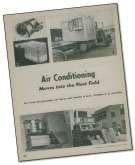 Technological developments in the 1950s were characterized by steady improvements to existing products. Innovations were driven by users benefiting from the booming postwar economy, the developing Interstate Highway System and growing competition from railroads.
Among the decade's notable product innovations, Stemco led the way in 1951 with its seals for trailer wheel bearings, which extended wheel maintenance intervals. The next year, Fuller marketed the first Roadranger transmission featuring 10 speeds with single-lever air-assisted shifting; later versions offered from five to 15 speeds.
In 1953, Neway offered the first air suspension for trucks using airbags that were developed by General Tire. That same year, Mack and White produced 96-inch bumper-to-back-of-cab models to satisfy demand for short conventional tractors that met overall length restrictions. Also helpful in that regard was a sliding hydraulic-powered fifth wheel designed by Transportation Engineering Sales Co. in 1955.
In 1954, Cummins offered the first turbochargers on its JT6B and NH series engines. Three years later, Ford introduced its C-series low-profile COE. Rounding out the decade, Kenworth offered the first fiberglass hood and fender assembly, continuing an evolving trend toward lightweight parts. And Electric Auto-lite developed the first transistorized ignition system, reducing maintenance costs by eliminating ignition system points and the condenser.
Finally, vehicle air conditioning moved out of the luxury class and into the fleet field, "especially in the Southwest," CCJ editors wrote in March 1956. "The best way to measure the value of air conditioning is to compare the dollar loss in driver productivity as outside temperature goes up against cost of the equipment."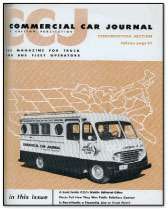 Hitting the road with its readers
In 1958, CCJ literally joined its readers on America's highways by launching a mobile editorial office, complete with a typewriter, Dictaphone, photocopying machine, cameras, files and more. The idea was that editors could visit fleets and get their in-depth stories on paper or tape while the information was fresh, make copies of documents pertinent to a story and conduct on-the-spot interviews.
"Keeping up with the latest developments in fleet operation means travel, travel and more travel," CCJ editors wrote in May 1958. "It's no exaggeration to say that our staff spends more time on the road gathering material than any other fleet publication."
Live chat becomes the norm

Two-way radios had been around for a few years when CCJ editors reported in July 1959 on how the devices also could be implemented into a fleet's safety program. Drivers could notify dispatchers about traffic jams or highway accidents so that other drivers could be alerted to steer clear of the area, while fleet inspectors could learn of accidents or incidents involving their own trucks immediately. "It's then a simple matter to find the driver and check his performance."
Easier logkeeping
In 1952, the Interstate Commerce Commission finally responded to complaints that its "Driver's Daily Log" – required since 1939 for truck and bus drivers to comply with hours-of-service regulations – was too complicated. ICC reduced the number of drivers' duty status categories from 15 to four.
Visit https://www.ccjdigital.com/ for an in-depth timeline detailing news and events in the trucking industry from this decade and share your company's history.