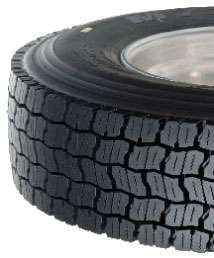 Tread designed for regional, OTR fleets
Bridgestone Bandag Tire Solutions' Bandag-brand BDR-HG tread is designed for regional and over-the-road fleets operating tandem-axle tractors. When used in the drive axle position, the BDR-HG (Bandag Drive Regional – High Grip) tread promotes traction both new and as the tread wears. The year-round all-weather tread features an open shoulder and full-depth voids and sipes, which help maintain a true lug throughout the tread's life. Tread compounding, deep tread and staggered blocks contribute to its long even wear.
Bridgestone Bandag Tire Solutions
Visit www.ccjdigital.com/info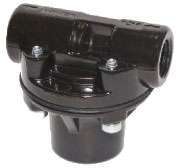 Pressure protection valves
Haldex Commercial Vehicle Systems' family of pressure protection valves – used in air suspensions, air seats and cab isolation systems – standardizes three pressure settings for both a base pressure protection valve and a pressure protection valve with a one-way check. The valves have an e-coated zinc diecast body that provides added corrosion resistance, a Nitrile diaphragm for added life and reliability, and a durable design that facilitates longer product life. The valve with a one-way check helps prevent reverse airflow and has additional corrosion resistance.
Haldex Commercial Vehicle Systems
Visit www.ccjdigital.com/info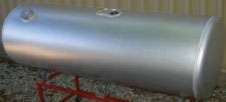 Replacement fuel tanks
Paccar Parts' TRP all-makes fuel tanks are available in various capacities of 50 to 150 gallons and a variety of diameters: 23 inches, 24.5 inches, 25 inches and 26 inches. The tanks fit all major OEM applications, including trucks made by Freightliner, International, Kenworth, Mack, Peterbilt, Sterling, Volvo and Western Star. They are made using the same standard of thickness and grade of aluminum called for in OEM manufacturing, using robotic processes to ensure they consistently exceed performance standards. The tanks also are treated with an acid etch designed to provide a consistent, uniform finish and have been drop-tested to ensure structural integrity. They are available with filler necks in the right, left and center locations to offer a wide variety of options for different fits and functions.
Paccar Parts
Visit www.ccjdigital.com/info

LED beacon
Ecco's redesigned 6260 now features a lower-profile lens measuring 4.9 inches high, three 3-watt LEDs and Pulse8 flash operation (8 flashes per cycle, 70 fpm) to produce a warning signal suited for industrial applications. The unit has a wide operating range of 12-80V, suitable for use on electric vehicles. The LEDs, which facilitate a long trouble-free service life and low amp draw, make the 6260 a suitable replacement for either rotating or strobe beacons. The 6260 is available in amber only with a choice of 2-bolt mount or ½-inch pipe mount.
Ecco
Visit www.ccjdigital.com/info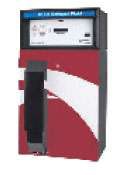 DEF dispenser
Gilbarco Veeder-Root has added the Atlas DEF dispenser to its Gasboy dispenser line, allowing fleet operators to integrate control and management of DEF into their existing reporting and management infrastructure. The Atlas DEF dispenser is fully compatible with Gasboy and other existing fleet management systems because it uses the same communication interfaces as standard Gasboy Atlas dispensers. The Atlas DEF dispenser also has the Gasboy footprint to minimize space on existing islands or skid tanks, while its familiar appearance and user interface complements existing sites, providing a uniform appearance for the operator. The Atlas DEF dispenser measures DEF by using a Weights & Measures-approved mass flow meter with no moving parts. The mass flow meter and hydraulics are made of stainless steel to help protect against the corrosive characteristics of DEF. A thermostat-controlled heated cabinet helps prevent DEF from freezing or crystallizing, while special hanging hardware options are designed for DEF use.
Gilbarco Veeder-Root
Visit www.ccjdigital.com/info

Cooling system leak repair
Solv-Tec's K-Seal HD is formulated to make permanent repairs to cooling systems on all trucks and tractors, as well as industrial, AG, RV and larger-capacity engines. K-Seal is made to stop most leaks in the block, head, radiator, heater matrix, freeze plugs and the head gasket without blocking or damaging the cooling system. The ceramic/copper formula can be mixed with all types of antifreeze. One 16-ounce bottle treats cooling systems up to 50-quart capacity; larger systems may require two bottles.
Solv-Tec
Visit www.ccjdigital.com/info
Alignment software
Hunter says the latest release of its WinAlign software includes operational enhancements to the company's CodeLink steering system reset tool. CodeLink is designed to reset steering angle and other related sensors to match the final alignment angles of the vehicle, as required by the OEM, to complete an alignment. WinAlign 11.1 now includes a CodeLink printout that shows before-and-after steering sensor values, lists any relative diagnostic trouble codes read before and after the procedure, and reports the success of the steering system reset. The CodeLink printout can be used along with the alignment measurement printout to document service and show the customer completed work.
Hunter
Visit www.ccjdigital.com/info
Shipper compliance package
Labelmaster has put together a package to help shippers comply with the latest regulations included in the 2011 edition of the ICAO Technical Instructions. The regulations apply to shipping dangerous goods by both air and ground. The all-inclusive package contains the following resources for safely shipping dangerous goods: A.I.R. Shipper, Air International Regulations for Shippers of Dangerous Goods; an exclusive Labelmaster edition of Early 49 CFR; RegStick USB electronic editions; and a revised 25-page battery shipping guide. A battery poster, section tabs and a hazardous material table ruler complete the set.
Labelmaster
Visit www.ccjdigital.com/info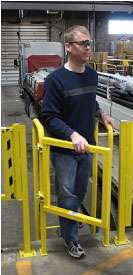 Safety swing gates
Wildeck's line of Laddergard Safety Swing Gates protects personnel at hazardous openings such as loading dock ladders, mezzanine or work platform ladders, rooftop access ladders, maintenance access ladders, equipment and machinery platform ladders and stairs, among other applications. The gates meet OSHA 1910.23 load force protection requirements and are offered in two configurations that can be adjusted easily to adapt to specific openings and customer needs.
Wildeck
Visit www.ccjdigital.com/info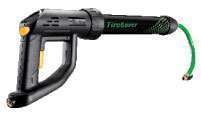 Nitrogen tire inflation wand
Parker Hannifin's TireSaver TS018-Wand is a manual nitrogen tire inflator that can be used to inflate the tires on a wide variety of vehicles. When connected to an existing compressed air line, the robust, lightweight, portable wand will produce a continuous on-demand nitrogen supply. The exchangeable membrane cartridge technology is designed to service about 10,000 tires (1,000 vehicles) with nitrogen and also can be used as a top-off tool for tires already filled with nitrogen.
Parker Hannifin
Visit www.ccjdigital.com/info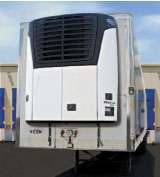 All-electric TRU for stationary applications
Designed specifically for stationary applications, Carrier Transicold's Vector 5100 all-electric trailer refrigeration unit offers an environmentally sound alternative to the practice of using trailers equipped with diesel-powered refrigeration systems for stationary cold storage in grocery and other applications. The Vector 5100 is similar to other Vector units from Carrier Transicold, except it's missing the power plant – the diesel engine plus generator found with Carrier's highway-bound units – thus eliminating the noise, emissions and expense associated with using diesel units for temporary cold storage and facilitating environmental stewardship.
Carrier Transicold
Visit www.ccjdigital.com/info
Space-saving battery box
Glacier Bay now has a space-saving battery box for its ClimaCab electric auxiliary power unit that reduces the number of components outside the cab by 25 percent, taking up less space on the frame rails of a vehicle while making the system easier to install and service. The smaller battery box also can contain the ClimaCab Power Management Module.
Glacier Bay
Visit www.ccjdigital.com/info
Hawk converter dolly
Silver Eagle Manufacturing's Hawk converter dolly for fleets that pull double- and triple-trailer configurations weighs 2,680 pounds and is capable of handling a gross vehicle weight rating of 20,000 pounds. Components include a huck-bolted frame and drawbar constructed of 1/4-inch high-strength steel for added durability. The body is e-coated and painted to help prevent rust corrosion.
Silver Eagle Manufacturing
Visit www.ccjdigital.com/info
Dial electronic torque wrenches
Stanley Proto has added seven SKUs to its lineup of dial electronic torque wrenches. The ergonomic tool, which operates on standard 9V batteries, includes a durable chrome body – not painted – and a sturdy rotary bezel. The electronic interface keypad facilitates ease of use and offers a number of advantages to users, including:
• Torsional strain gauge technology that produces an accurate torque reading – regardless of where the load is applied on the handle – and improves accuracy to +/-1 percent in both directions;
• A fast sampling rate that ensures the wrench will measure peak torque the moment it's reached;
• Torque measurements that can be read in in-lb., ft-lbs. or N-m simply by pressing a button;
• Track and Peak Hold modes on all models (in Track mode, the wrench displays real-time torque; in Peak mode, it holds the highest measured torque until released); and
• A green light and a buzzer that indicate when the target torque has been reached, and a red light and an intermittent buzzer that warn when the fastener has been overtorqued.
Stanley Proto
Visit www.ccjdigital.com/info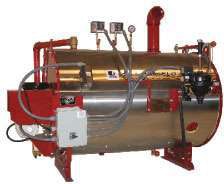 Waste oil-burning steam generator
Sioux Corp.'s Steam-Flo waste-oil burner helps lower fuel costs while providing hot water or steam for a fleet's operation. The unit burns 2.9 gallons of waste oil per hour and produces 345 pounds of saturated steam per hour.
Sioux Corp.
Visit www.ccjdigital.com/info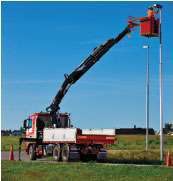 Work platform for crane
Cargotec's Mobile Elevating Work Platform – fitted on Hiab cranes and suited for maintenance jobs, bridge inspections and tree trimming – helps ensure safer and more productive work at heights through its Variable Stability Limit system designed for loader and recycling cranes. The VSL system maximizes crane capacity in relation to stability by registering how far stabilizer extensions are extended and ensuring that the legs are set firmly on the ground. In addition, Hiab MEWP cranes are fitted with an upgraded operator protection system that provides additional safety by defining a "virtual protection cage" and electronically prevents the boom from entering this restricted space.
Cargotec
Write 215 on Reader Service Card or
visit www.ccjdigital.com/info

Portable heavy-duty road chests
Snap-on says its portable heavy-duty road chests (KRA6200 with ISO-frame, KRA6210 with side handles) provide more versatility and efficiency, making service calls less time-consuming and a lot more productive. The KRA6210's handles are reinforced for easier lifting and an additional transport point, while the KRA6200's ISO-frame can be removed and used with standard side handles for in-shop use on a roll cab; both handle systems can be combined in the same unit if needed. An exterior lid lock has a T-handle to allow the lid to be locked or opened without a key, while the lid's top compartment has an internal drawer release for independent drawer operation, allowing the user access even if the lid cannot be opened.
Snap-on
Visit www.ccjdigital.com/info