FMCSA amends SMS Agency wants to better identify high-risk carriers
Addressing concerns raised by the American Trucking Associations and other industry groups earlier this summer about the design of Comprehensive Safety Analysis 2010 (CSA 2010), the Federal Motor Carrier Safety Administration announced updates to the Safety Management System (SMS) methodology intended to better identify carriers deemed "high risk" or otherwise having safety compliance problems.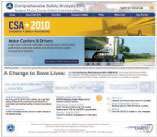 Most notably, the measure of exposure will be changed from Power Units only to a combination of Power Units and Vehicle Miles Traveled (VMT) in the Unsafe Driving and Crash Indicator BASICs (Behavior Analysis and Safety Improvement Categories). In addition, these two BASICs will change from using Power Units as a safety event grouping (formerly referred to as peer grouping) to using the number of crashes for the Crash Indicator and the number of inspections with a violation for the Unsafe Driving BASIC.
"ATA believes the use of mileage data rather than merely fleet size to measure exposure data is definitely a step in the right direction," says Rob Abbott, vice president of safety policy for the American Trucking Associations. "Also, establishing peer groups based on the number of violations rather than fleet size acknowledges the variability of the state inspection and enforcement programs, because different carriers operate in different environments. It's clear that some states have more robust roadside inspection programs, and this change properly acknowledges that fact."
Other updates to the SMS:
• The measure of exposure will change from Power Units to the number of relevant inspections in the Controlled Substances/Alcohol BASIC;
• Severity weights for some roadside inspection violations will be updated; and
• FMCSA will employ a more strategic approach to addressing motor carriers with a history of size and weight violations rather than counting these violations in the Cargo-Related BASIC. – Jeff Crissey
IN BRIEF
* The U.S. Department of Transportation's second National Distracted Driving Summit will be held Sept. 21 in Washington, D.C. Leading transportation officials, safety advocates, law enforcement officials, industry representatives, researchers and victims affected by distraction-related crashes will convene to address challenges and identify opportunities for national anti-distracted driving efforts.
* The Federal Motor Carrier Safety Administration's new training video, "Cargo Tank Driver Rollover Prevention Video," provides cargo tank drivers with best practices and safety tips on how to avoid rollover crashes while transporting hazardous materials. The video is available for viewing or download at www.fmcsa.dot.gov/about/outreach/cargo-tank-video.aspx.
* The Commercial Vehicle Safety Alliance named Stephen A. Keppler as its executive director. Keppler has been employed with CVSA since 2000, most recently as interim executive director.
* J.J. Keller & Associates Inc.'s redesigned website, JJKeller.com, sorts information based on area of interest, including news articles, relevant resources and key products for each area. Visitors can narrow products by type, as well as compare products side-by-side.
* Richard Robinson, a CVSA-certified North American Standard Level I inspector from Ontario, was awarded the Jimmy K. Ammons Grand Champion Award for his combined performances in seven competition elements at CVSA's North American Inspectors Championship.
CSA 2010 carrier safety standings now available
The Federal Motor Carrier Safety Administration released individual carrier safety assessments on its Data Preview website (https://www.csa2010.fmcsa.dot.gov/DataPreview). This update allows carriers to see where they stand in each Behavior Analysis and Safety Improvement Category (BASIC) based on roadside data and investigation findings.
Each motor carrier's BASIC assessments are visible only to them and to enforcement staff until December, at which time assessments will be made available to the public. Also, enforcement agencies will use these assessments to prioritize the agency's enforcement and compliance assistance workload.
FMCSA recommends that motor carriers verify and update their census data and take the necessary steps to correct unsafe driver and/or company safety practices.
Preventable or not:
Doe's one-way day in Atlanta not peachy
At dawn, tractor-trailer driver John Doe had completed a left-lane curbside delivery of "Cluckin' Good" barbecue sauce to the Chicken Lickin' store on a one-way stretch of Peachtree Street in downtown Atlanta. Appreciative of the just-in-time delivery, the store manager had awarded Doe his latest concoction – a baked Chicken 'N Biscuit breakfast – which Doe had enjoyed, along with a decaf coffee (cream, no sugar), in the comfort of his cab.
As Doe attempted to inch his way into the stream of rush-hour traffic, a double-parked package delivery truck forced him to seek the right lane. To assist Doe's lane change (and, perhaps, for fear of being hit by the 18-wheeler), a teenager in the right lane had stopped his blue Corvette. So Doe started to make his move, chewing on a celery stick to maximize his concentration.
At that moment, wildly impatient Orange Cab driver Chester "Butch" Mutley was behind Doe's trailer, the rear of which still occupied the left lane. Running late, Mutley decided, in error, that he could maneuver his Caprice Classic around the slow-moving truck and into the right lane for some clear sailing with no sweat. At that same instant, Doe figured that he was in the clear and, neglecting to check his mirrors, started to exercise his Roadranger, accelerating fast.
Suddenly … a flash of orange? What's that crazy cabbie … ? SMASH!!! Doe's right front bumper was twisted around Mutley's left fender, inspiring Doe's safety director to issue him a warning letter for a preventable accident, which Doe contested: Mutley was bonkers, Doe claimed. Asked to resolve the dispute, the National Safety Council's Accident Review Committee upheld the "preventable" decision, noting that Doe should have been more cautious – anticipating the possibility of a "squeeze play" accident and making better use of his mirrors to spot Mutley's kamikaze maneuver. n