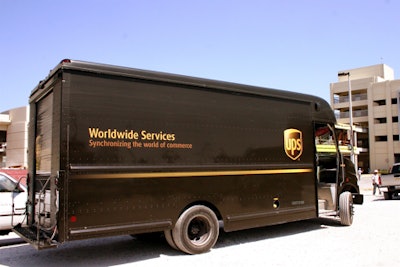 After a decade of work and the investment of billions of dollars to transform the company, UPS on Monday, Sept. 13, launched a communications program to demonstrate how it offers the broadest range of logistics services in the industry. UPS says the communications program, starting with a new advertising campaign in the United States, China, the United Kingdom and Mexico, will focus its ability to help companies of any size, industry or geography harness the power of logistics to drive growth and gain competitive leverage in the global marketplace.
The ad campaign was conceived by Ogilvy & Mather Worldwide. The creative elements of the platform will focus on the theme "We Love Logistics" to reflect the company's ability to deliver transportation and supply chain solutions that can bring competitive power to its customers. The first ads now are running in the United States, China and U.K. today, followed by Mexico on Sept. 20. UPS plans to show its new advertisements through a variety of mediums, including print, television and digital media, as well as some unique "out-of-home" activations. UPS also will support the campaign through various social media channels.
"People often think of logistics simply as moving goods to the right place at the right time," says Scott Davis, chairman and chief executive officer. "But with more than a century of experience, UPS understands that logistics can be a powerful tool to help businesses get products to market first, gain operational efficiency, save money and improve customer loyalty. Especially in today's economy, companies need an edge, and UPS's mastery of logistics can give it to them."
The new ad campaign's emphasis on logistics reflects UPS's evolution, particularly during the last decade. Since becoming a publicly traded company in 1999, UPS has expanded the scope of its capabilities primarily through the acquisition of more than 40 companies, including industry leaders in trucking and air freight, retail shipping and business services, customs brokerage, finance and international trade services. UPS says that as a result, its relationship with many of its customers has deepened to include much more than basic transportation services.
"Package delivery will always be the foundation of our business, but today UPS can do so much more for its customers," Davis says. "Our extensive logistics solutions can help big corporations become more nimble or give even the smallest business the resources to compete on a global scale. No one is better positioned to help companies tap into the power of logistics than UPS."