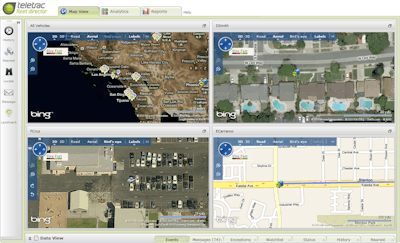 Teletrac announced the release of a major upgrade of its integrated vehicle-fleet management telematics solution, Fleet Director 8.1, which delivers fleet analytics in a dashboard-type display that users can access from any Web browser. The new Fleet Director release also is designed to make route scheduling easier and more effective, reducing costs through labor, fuel and vehicle efficiencies while helping fleets improve service to their customers.
The solution is designed to allow fleets to gain benefits including lower fuel consumption and out-of-route miles, higher productivity, less unauthorized vehicle use, more on-time arrivals, enforced safer driving – often enabling lower insurance premiums – less driver overtime, reduced paperwork and improved regulatory compliance through automated electronic driver logs.
"Fleet Director 8.1 reflects Teletrac's continuing commitment to excellence and continuous improvement in new functionality," says Drew W. Hamilton, executive vice president. "With new real-time analytics, decision-makers gain dramatic abilities to head off problems and spot trends as they emerge. The analytics dashboard reveals at a glance key indicators such as fleet utilization, average miles driven, average idle time and much more – offering numerous opportunities to tighten cost control and boost fleetwide efficiencies." Hamilton says that when the vehicles' JBUS data is available, managers also can view fleetwide average fuel efficiency, engine running time and other vehicle performance metrics. Potential problems like engine fault codes also are highlighted.
Fleet Director 8.1 technology also is designed to give users flexibility and ease of use in an easy-to-understand interactive display with a user-friendly and customizable screen display with easily recognizable icons. Users have flexibility for displaying multiple map views and data, and can customize window sizes and screen positions on the fly – allowing dispatchers to view whatever information is most relevant at a given moment.
Fleet Director combines SmartNav turn-by-turn navigation, satellite mapping, real-time traffic information, stolen vehicle tracking and comprehensive reporting tools used to monitor mileage, vehicle use and alert managers to unauthorized use and unsafe driving behavior. Teletrac says the latest release, Fleet Director 8.1, extends core capabilities in numerous ways:
• Real-time fleet analytics in dashboard displays: Fleet Director 8.1 distills wide-ranging operational data from the most recent 24 hours into a single dashboard-type display that users can grasp at a glance to improve decision making. Users can view these metrics 24/7 through any Web browser. The new analytics dashboard digests data from 16 Teletrac reports and displays results in a high-level easy-to-understand summary. Operations managers can view per-vehicle averages for fleet utilization, miles driven, idle time and other key performance indicators. When Fleet Director 8.1 receives data from the vehicles' JBUS system, the new analytics dashboard also displays average fleet fuel efficiency and average engine running time. Managers can spot potential problems easily because this dashboard shows data for the 10 lowest performing vehicles in each of two key categories – utilization and fuel efficiency – in a fleet or any user-defined sub-fleet. Taken together, these indicators give decision makers opportunities to reduce costs and improve operational efficiency.
• Advanced route scheduling: Fleet Director 8.1 extends Teletrac's SmartNav system to include route scheduling. It enables dispatchers to create the most efficient itinerary automatically for up to 19 deliveries on the day's route for each vehicle. Dispatchers set destinations and length of day, and Fleet Director 8.1 does the rest – speeding and simplifying dispatchers' chores, reducing human error and ensuring lowest-cost vehicle routing. To help ensure accurate scheduling, it accounts for expected "dwell time" spent waiting at each delivery point. If Fleet Director 8.1 finds that all deliveries can't be made in one day, it lets dispatchers remove destinations or extend the day. Because Fleet Director 8.1 is highly integrated, the optimized schedule is downloaded to the vehicle's in-cab display. To adjust for unexpected delays, dispatchers can reoptimize schedules on the fly, minimizing disruptions to maintain high service levels while also keeping a lid on delivery cost. Fleet Director 8.1 automatically recalculates the day's schedule, then sends destinations to drivers in newly optimized order, ensuring the most fuel- and time-efficient routes even when traffic and other events intervene.
• MultiView tiled mapping and other enhancements: Fleet Director 8.1 lets dispatchers and managers view multiple interactive maps on the same screen, each map displayed in its own independently controlled window. For instance, users can display one map showing all vehicles, and use other tiled windows to stay zoomed in on several specific vehicles. This MultiView map tiling helps Teletrac users make better operational decisions by getting the "big picture" while focusing on potential problems and emergent situations in greater detail. Users can set each tiled map view with its own zoom level and even map style. Fleet Director 8.1 gives users abilities to follow the progress of multiple vehicles in a single tiled view. Similarly, users can replay the actions of multiple vehicles in a single view. This ability can help resolve disputes and complaints more efficiently. For instance, if a complaint is lodged against a driver and there were two drivers in the area, managers can replay both drivers' routes at the same time in the same view to determine which was present at the place and time of the complaint.