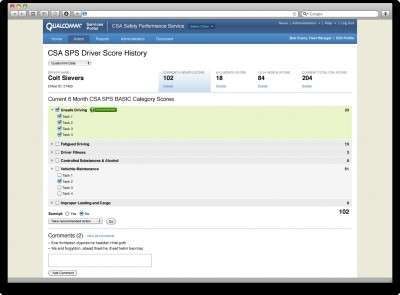 Qualcomm Enterprise Services (QES) announced plans to launch CSA Safety Performance Service on Nov. 15.
The new Qualcomm service will provide customers with a Comprehensive Safety Analysis 2010 safety assessment "scorecard" for their fleet and drivers at no additional cost. The scorecards will use the same government data and safety assessment methods as CSA 2010, the Federal Motor Carrier Safety Administration's new safety regime scheduled to take effect this year.
For an additional monthly fee, Qualcomm customers can leverage the full functionality of the CSA Safety Performance System. This will include a predictive element to the CSA 2010 scorecard based on real-time driver safety and performance data from Qualcomm applications such as Critical Event Reporting, Performance Management, Qualcomm Hours of Service.
The CSA Safety Performance System will combine real-time data and predictive analysis with a carrier's existing safety data and CSA 2010 scores. The system also incorporates a set of workflow tools to automate the process by which fleets can identify risk and intervene to correct driver behaviors, says Norm Ellis, vice president of sales, services and marketing for Qualcomm Enterprise Services.
The system will include 55 different driver "work plans," which are targeted mentoring and coaching plans tied to specific driver behaviors such as speeding or fatigue. If left uncorrected, these set of behaviors will lead to actual warnings and violations that negatively impact a carrier's CSA 2010 score.
As part of the workflow process, the system will create a PDF document for each coaching plan. The document will be recorded along with any comments to a driver file, Ellis says.
The CSA Safety Performance System is compatible with any Qualcomm in-cab Mobile Computing Platform (MCP), which includes the MCP 100, 110 and 200 series. The MCP series have color, touch-screen displays with document viewing and audio and multi-media capabilities — features that make it possible to send training materials to drivers in the cab and affect their performance while out on the road, Ellis says.