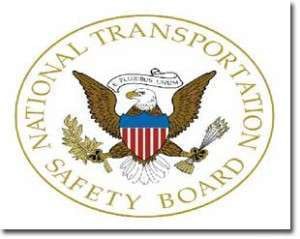 The National Transportation Safety Board on Tuesday, Sept. 28, determined that driver fatigue stemming from sleep loss, circadian disruption and sleep apnea were at fault in its investigation of a highly publicized multi-vehicle accident in June 2009 involving a tractor-trailer that killed 10 people near Miami, Okla. According to the NTSB's analysis, the 76-year-old truck driver failed to react to slowing and stopped traffic ahead by applying brakes or performing any evasive maneuvers to avoid a collision. The accident occurred shortly after a minor accident in the same area caused traffic to back up.
The NTSB identified several major safety issues during its investigation, including the need for a fatigue management system, event recorders and collision warning systems. "The time to act on all three of these safety fundamentals is now so that this kind of horrific tragedy will not occur again," said NTSB Chairman Deborah A.P.
Hersman.
In its recommendations following the investigation, the NTSB called upon the Federal Motor Carrier Safety Administration to require all heavy commercial vehicles to be equipped with video event recorders, improve its fatigue educational materials and to require all motor carriers to adopt a fatigue management program based on the North American Fatigue Management Program. In addition, the NTSB urged the National Highway Traffic Safety Administration to set performance standards for event data recorders and require that all trucks over 10,000 pounds GVWR be equipped with event data recorders. The NTSB reiterated previous recommendations to develop standards and require deployment of collision warning systems on new commercial vehicles, to require energy-absorbing under-ride protection for trucks, and to develop technologies to reduce fatigue-related accidents. In total, the NTSB issued nine new and six reiterated safety recommendations in its report.
A synopsis of the accident investigation report, including the findings, probable cause, and safety recommendations,
can be found on the Board Meetings page of the NTSB's website, http://www.ntsb.gov/events/Boardmeeting.htm.