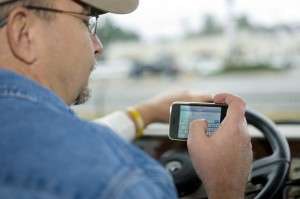 U.S. Transportation Secretary Ray LaHood on Tuesday, Sept. 28, responded to a report released by the Highway Loss Data Institute that questioned the effectiveness of anti-texting while driving laws with respect to improving traffic safety. LaHood says the Insurance Institute for Highway Safety and its affiliate, HLDI, have dismissed the effectiveness of national anti-distracted driving efforts over the last year.
"This report is completely misleading," LaHood says. "Distracted driving-related crashes killed nearly 5,500 people in 2009 and injured almost half a million more. Lives are at stake, and all the reputable research we have says that tough laws, good enforcement and increased public awareness will help put a stop to the deadly epidemic of distracted driving on our roads."
LaHood says the HLDI-IIHS report fails to reconcile with previous research supported by HLDI-IIHS showing that drivers are four times as likely to crash if using a handheld device while driving. He says the research also fails to square with U.S. Department of Transportation research that shows deadly distracted driving behavior on the decline in cities where laws are coupled with tough enforcement.
In April, DOT launched pilot enforcement campaigns in Hartford, Conn., and Syracuse, N.Y., to test whether increased law enforcement efforts combined with public service announcements could get distracted drivers to put down their cell phones behind the wheel. LaHood says the "Phone in One Hand, Ticket in the Other" pilot campaigns have shown that police enforcement of anti-distracted driving laws can reduce distracted driving behavior.
"Tough laws are the first step, and enforcement must be next," LaHood says. "We know that anti-distracted driving laws can be enforced effectively because two DOT pilot enforcement programs in Hartford and Syracuse prove it. In the last six months alone, hand-held cell phone use has dropped 56 percent in Hartford and 38 percent in Syracuse, and texting while driving has declined 68 percent in Hartford and 42 percent in Syracuse." To date, police in Hartford have written about 4,128 tickets and Syracuse police have issued 4,446 tickets for violations involving drivers talking or texting on cell phones.
According to research by the National Highway Traffic Safety Administration, distracted driving-related fatalities jumped from 10 to 16 percent of all traffic fatalities between 2005 and 2008. In 2009, for the first time in four years, distracted driving fatalities stopped rising, remaining at 16 percent of overall fatalities. The leveling off in distracted driving-related deaths coincided with DOT's national anti-distracted driving campaign and numerous other public awareness efforts, as well as an increasing number of state anti-distracted driving laws.
In addition to launching DOT's national anti-distracted driving effort, LaHood simultaneously has redoubled efforts to crack down on drunk driving and develop advanced alcohol detection technology through DADSS; increase seatbelt use, which has risen to 85 percent with the help of "Click it, Or Ticket"; and promote the proper use of child safety seats, among other safety initiatives.
Today, traffic fatalities are the lowest on record, reaching an all-time low of 33,808 in 2009. NHTSA this week released a report showing that in the first half of 2010, that downward trend of traffic fatalities plummeted another 9.2 percent, to 14,996 deaths between January and June. "When it comes to safety, I will take a backseat to no one," LaHood says. "I am going to continue working to put an end to the deadly epidemic of distracted driving, in addition to tackling the other safety challenges we face on our nation's roads."