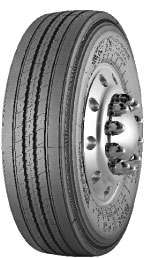 Long-haul steer tire
Giti Tire's GSL213 is a long-haul steer featuring advanced technology and a pattern designed for outstanding overall performance, resistance to irregular wear and extended mileage. The tire features an extra-wide deep tread to facilitate longer tread life, defense and braking-force ribs to help prevent irregular wear, and a special tread compound for added abrasion resistance while extending tread life. GSL213 is available in sizes 11R22.5 14PR (20/32-inch tread depth), 295/75R22.5 14PR (20/32-inch TD), 11R24.5 14PR (20/32-inch TD) and 285/75R24.5 14PR (20/32-inch TD). The tire is backed by the company's new limited GT radial truck tire warranty that includes a two-retread or five-year limited casing warranty with robust casing allowances.
Giti Tire
Visit www.ccjdigital.com/info

Driveline universal joint assembly
Dana Holding Corp. enhanced its Spicer Life Series (SPL) Model 250 universal joint assembly to improve product performance and durability. Designed to meet the needs of low-emissions high-efficiency Class 8 trucks, the SPL-250 universal joint assembly offers more than a 40-percent improvement in dynamic bearing capacity – in the same compact package – to create a driveline with more power density. The new bearing package includes larger needle bearings for increased capacity, a special Viton synthetic seal for improved grease retention and serviceability, and a thermoplastic seal guard to exclude contaminants. A premium synthetic lubricant provides further improvement in bearing life through the initial three-year/350,000-mile lubrication interval. The assembly's Spicer Quick Disconnect feature helps make it easier to service the powertrain.
Dana Holding Corp.
Visit www.ccjdigital.com/info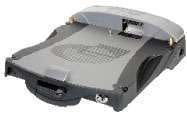 Computer docking station
Gamber-Johnson's line of Mag docking stations now includes a dock for the Panasonic Toughbook 31 computer. The Mag 31 Dock, constructed out of a magnesium shell to enhance its overall look and performance, includes a front-facing docking mechanism designed for easy one-handed docking and undocking of the computer. The station, which has a key lock for added security, has passed vibration testing standard MIL-STD-810G and has undergone cycle testing on the latch and docking mechanisms. The dock, which has a molded design that reduces the number of parts, is USB 2.0 compliant, offers a variety of antenna pass-through options and contains two Ethernet and five USB forward-facing ports for low mounting capability, minimal cable strain and minimal swivel resistance. The Mag 31 Dock is backward-compatible with the Panasonic Toughbook 30 computer.
Gamber-Johnson
Visit www.ccjdigital.com/info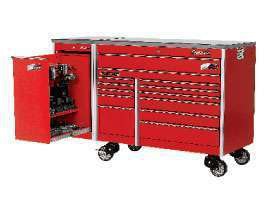 Power tool storage, charging
Snap-on's Masters Series PowerCab fits on the side of any double bank or larger 1000 Series Snap-on Roll Cab to give technicians a place to securely store and charge their power tools and batteries. PowerCab is a lockable, vertical drawer bank with built-in power access that offers additional space to hold the most commonly used cordless and air-powered tools. A "Slots and Dots" side panel gives technicians added flexibility to store power tools in multiple locations. PowerCab is available in a variety of colors.
Snap-on
Visit www.ccjdigital.com/info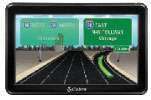 Navigation unit
Cobra Electronics' 7750 Platinum, a 7-inch navigation unit designed specifically for professional drivers, features enhanced graphics, Junction View with Lane Assist, State Mileage Log and Hours-of-Service Log, in addition to last-mile routing to offer added road coverage on secondary highways. Enhanced graphics and menu options provide added visibility in sunlight and optimized efficiency when scrolling through searches and settings of the unit, while Quick-Tabs allow drivers to see critical information such as the distances to weigh stations, travel centers, rest areas and mile markers at a glance. Junction View with Lane Assist provides drivers with 3D images of upcoming highway junctions as well as lane guidance and enhanced turn-by-turn directions, while the State Mileage Log tracks miles within a state for IFTA reporting and the Hours-of-Service Log enables drivers to track on-duty, off-duty and driving time.
The 7750 Platinum includes 33,000 ProMiles Software and TruckDown Info International truck-specific points of interest, such as routable travel center locations, detailed amenity information, fueling stations, restaurants, heavy-duty towing, truck and trailer repair shops, truck-friendly hotels, weigh stations and certified scales. It also features more than 12 million standard Tele Atlas POIs and branded icons, which visually represent participating businesses as instantly recognizable logos so users can identify specific brands of interest more accurately.
Cobra Electronics
Visit www.ccjdigital.com/info
Suspensions with bolt-on hangers
Ridewell has expanded its RAR-260 Series of suspensions by adding three 25,000-capacity suspensions with an industry-standard bolt pattern: Part No. 2600314, 14- to 16-inch mounting height; Part No. 2600316, 16- to 18-inch mounting height; and Part No. 2600317, 15- to 17-inch mounting height (high-travel).
Ridewell
Visit www.ccjdigital.com/info

ECM tuner
Bully Dog Technologies' Power Pup downloader is an ECM tuner designed to upgrade an engine's ECM program to improve fuel economy. With an ECM tuner, the ECM's response to information relayed from sensors is modified to achieve the desired results. The Power Pup is connected to either the 6- or 9-pin diagnostic data port inside the cab. A copy of the stock tune is saved, and a new software tune is uploaded into the ECM. Once it is complete, the ECM tuner is disconnected and stored away. On the ECM tuner, there are two settings above stock from which to select: Economy, which is designed exclusively for adding more fuel economy from the engine without adding any noticeable hp or torque gains; and Economy with Power, which is designed for adding more fuel economy while at the same time adding additional hp and torque over stock.
Bully Dog Technologies
Visit www.ccjdigital.com/info
Anti-siphon device
Robond's Talon Tight Anti-Siphon device for diesel fuel tanks requires no tools or screws for installation; push it into the filler neck, and the fuel pump nozzle holds into the anti-siphon device without assistance. The product, designed to prevent fuel skimming, is made of zinc-plated steel, prevents splashback and has no holes greater than ¼-inch.
Robond
Visit www.ccjdigital.com/info
Combination-style nipple for ABS
Haldex Commercial Vehicle Systems now has a combination-style nipple for its Full Function ABS. Used with the PLC Select Full Function 1M and 2M ABS applications, the new nipple accommodates either ½-inch or ¾-inch NPT reservoir ports and provides an inventory reduction opportunity for multiple applications.
Haldex Commercial Vehicle Systems
Visit www.ccjdigital.com/info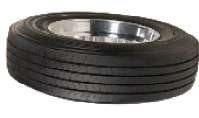 Trailer tread
Bridgestone Bandag Tire Solutions' Bandag-brand B197 trailer tread is patterned after the Bridgestone brand R197 trailer radial for fleet customers seeking a seamless choice of new tires and retread designs. The B197 tread, built for long life, combines innovative compounding and a classic straight-rib tread design, Bandag's longest-wearing 11/32-inch-depth product, facilitating added cost per mile. The Bandag B197 is available in sizes that fit most trailer tire casings: 210mm, 220mm and 230mm.
Bridgestone Bandag Tire Solutions
Visit www.ccjdigital.com/info
Digital onboard load scale
Right Weigh Load Scales' E-Z Weigh digital onboard load scale monitors the weight of any single, tandem or tri-axle group of air suspension straight truck, tractor or trailer. The scale uses a two-point calibration process and is designed to be accurate within 300 pounds or better. Measurements can be made in pounds and kilograms, and the weather-tight digital gauges are designed to withstand extreme temperatures and inclement weather conditions to allow for exterior installation. The large LCD display is visible from 30 feet away.
Right Weigh Load Scales
Visit www.ccjdigital.com/info
Line up wheel studs, rim holes
Gaither Tool Co.'s O-Line-Er helps make it easier to line up wheel studs with rim holes, helping to minimize installation time. When combined with Gaither's Wheel Dolly, the O-Line-Er simplifies repositioning of a wheel while making the procedure safer by reducing injury risk when dealing with heavy tires and rims.
Gaither Tool Co.
Visit www.ccjdigital.com/info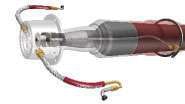 Trailer tire maintenance system
Hendrickson Trailer Suspension Systems' Tiremaax Pro provides automatic inflation and maintenance of trailer tires. The device features a straightforward mechanical design that continuously monitors tire pressure to respond to changes in outside temperature and draws from the trailer air supply to keep trailer tires properly inflated and rolling smoothly; if the ambient temperature increases, the system will relieve air when necessary to prevent overinflation. Tiremaax Pro uses a rotary air connection that is integrated into the hubcap and built with high-precision bearings and an engineered polymer seal. A signal light illuminates only when attention is required to alert the operator of tire or system leaks. With robust components and no electronics, transducers or pressure switches, the device is designed to be easy to maintain; the versatile system requires no special tools and operates on either 12V or 24V electrical systems. Tiremaax Pro may be combined with an array of Hendrickson-approved wheel-end configurations.
Hendrickson Trailer
Suspension Systems
Visit www.ccjdigital.com/info
Reel wand holder
Coxreels' wand holder for its 1125 Series hand cranks and motorized reels is constructed of strong lightweight aluminum, with a black powder-coated finish for added corrosion resistance. The wand holder is 24 inches long with a 1.6-inch diameter, making the accessory suitable for storing pressure-washing guns and other spraying devices directly on the reel. The design allows for easy mounting on all four reel locations, including the left, right, front and rear sides of the A-frame base of the 1125 Series reels. The wand holder includes rust-inhibiting stainless-steel mounting hardware.
Coxreels
Visit www.ccjdigital.com/info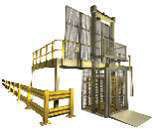 Safety sensor for vertical material lifts
Wildeck has made its proprietary AutoSenz technology standard on its mechanical and hydraulic Vertical Reciprocating Conveyor material lifts. The modular safety sensor, the AutoSenz M-Series, provides standard auto-ranging overload/VRC jam protection to minimize damage to material and equipment should items become jammed during the lifting operation. Existing mechanical and hydraulic VRCs also can be upgraded with an AutoSenz M-Series Retrofit Module. AutoSenz also features a VRC service and maintenance reminder that can be programmed to appear at specific service time intervals by the factory, the end-user or VRC service technician. Wildeck's optional full-featured AutoSenz package – which provides a PLC with digital user interface, pushbutton controls, system diagnostics capabilities and the VRC service/maintenance reminder – has been renamed the AutoSenz D-Series.
Wildeck
Visit www.ccjdigital.com/info
Two APUs
Tridako Energy Systems, makers of PowerCube APUs, introduced a new unit and a smaller prototype designed for truckers with limited frame rail space and a desire to save weight. The larger unit is the HC5128 28-inch-wide design that offers 24,000 BTUs of air conditioning capacity, 30,000 BTUs of cab heat, 6,000 watts of 120V 60-Hertz AC power and 60 amps of 12V DC power; fuel consumption is rated at 0.165 gallons per hour, and the unit also is designed for easy maintenance access. The smaller design, with a 24-inch width, removes the AC generator and includes a 150-amp DC alternator that can provide hotel loads if the user installs a power converter.
Both units employ an 11.8 hp Cat two-cylinder diesel that runs at 2,800 rpm. The ThermoVap combination radiator/condenser design eliminates the need for a remote air conditioner condenser on the back of the cab. Cooling for both the engine radiator and the air conditioning condenser is provided by a single engine-driven fan with variable pitch blades to reduce drag. The under-bunk evaporator unit features a 600 cfm blower to provide faster cooldown.
Tridako Energy Systems
Visit www.ccjdigital.com/info

Protective cases
OtterBox's Defender Series and Commuter Series protective cases now are available for several more devices designed to accompany on-the-go work and lifestyles, including Apple's iPad. The Defender Series case combines a two-piece polycarbonate shell lined with soft felt, silicone outer skin and a self-adhering screen protector to facilitate rugged protection. An additional polycarbonate cover snaps over the face to help protect the multi-touch display; the cover also can function as a built-in stand. Silicone grip pads on the bottom of the case help prevent the iPad from sliding when sitting on a flat surface. The Commuter Series offers a self-adhering screen protector and snap-off access to the optional iPad dock.
The Commuter Series also is available for the HTC Legend, HTC HD2, HTC EVO 4G and Droid Incredible; the case allows for full functionality of the Incredible's many features, including the 8-megapixel camera. Users of the Motorola Quench can choose from either the Commuter Series or the Impact Series, which has an inner coring-lined silicone skin to protect against bumps, shocks and scratches.
OtterBox
Visit www.ccjdigital.com/info
APU shorepower capability
Glacier Bay announced an off-vehicle power connection option for its ClimaCab electric auxiliary power unit. With the shorepower option installed, a driver can keep the cabin temperature at a constant comfortable level in any conditions for an unlimited period and recharge both the ClimaCab and main truck batteries without starting the engine and using fuel.
In addition to allowing ClimaCab to be operated when plugged into an 110V electrical outlet, the shorepower option places two 110V AC outlets in the cabin that a driver can use for other electrical needs such as a television, computer or microwave oven. Using the shorepower option, the main batteries in the ClimaCab system can be fully recharged within 6 to 8 hours depending on the amount of power the cab is using at the same time.
Glacier Bay
Visit www.ccjdigital.com/info

Trailers for wind energy, heavy haul transport
Talbert Manufacturing's 75-Ton Double Schnabel Trailer is designed for wind energy transport and also can be converted for use in heavy-haul construction transport. Units also are available in single and multiple combinations for wind towers.
The self-sustaining, self-loading trailers have hydraulic-lift capabilities that eliminate the need for cranes during load or unload. The trailers feature a 13-axle hauling configuration designed for two hauling applications – either an 80-meter wind tower base or a wind tower midsection. The main upper-front and rear goosenecks are standard HRG style and pinned in place on a column-style hydraulic Schnabel tower. The lower rear of the tower is equipped with two removable banana-style flange adapter plates for two tower sections. Units are equipped with both mechanical and remote rear steer capability. With optional HRG base sections and a 30-foot deck, the unit can be converted to haul construction and industrial equipment loads up to 75 tons.
For ease of operator use and added safety, the upper Talbert "power tower" is equipped with removable and adjustable upper guide tubes that minimize any rolling of the tower section during transport; and all Talbert Schnabel and power tower main hydraulic and air-operated controls are on the side of the gooseneck. The operator does not have to climb on the unit to engage lock pins.
All six axles on the Talbert steer dolly are 10 feet wide for increased roll stability and safety. The front three axles are fixed and nonsteerable, while the rear three axles are designed for progressive steering as axle No. 6 will steer the maximum of 30 degrees. The unit also can be adjusted to steer faster or slower.
Talbert Manufacturing
Visit www.ccjdigital.com/info