Truck-involved fatalities down 20%
Industry cites hours rules for improved statistics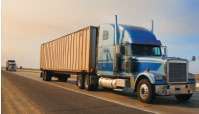 Updated 2009 fatality and injury data from the National Highway Transportation Safety Administration's Fatality Analysis Reporting System (FARS) released last month showed 3,380 truck-involved traffic fatalities in 2009, a 20 percent decline from the 4,245 fatalities posted in 2008. The reduction is the lowest level in recorded Department of Transportation history (DOT began collecting traffic fatality data in 1975) and also shows a 33 percent decrease in fatalities since the improved hours-of-service regulations from the Federal Motor Carrier Safety Administration went into effect in January 2004.
"Greater rest opportunities for drivers under the 2004 hours-of-service rules and a more circadian-friendly approach to a driver's work-rest cycle have helped truck drivers achieve these exceptional results," says Bill Graves, American Trucking Associations president and chief executive officer.
In addition, the number of truck occupant deaths decreased 26 percent in 2009, from 682 in 2008 to 503 in 2009. The number of truck occupants injured in truck-related crashes also declined 26 percent.
"This significant gain in commercial truck safety shows that ongoing enforcement efforts and our partnerships with state and local law enforcement are making a difference," says FMCSA Administrator Anne Ferro.
Overall highway deaths fell to 33,808 for the year – the lowest mark in 60 years – even though estimated vehicle miles traveled increased slightly from 2008. In addition, 2009 saw the lowest fatality and injury rates ever recorded: 1.13 deaths per 100 million vehicle miles traveled in 2009, compared to 1.26 deaths for 2008. Alcohol-impaired driving fatalities declined 7.4 percent in 2009 – 10,839 compared to 11,711 reported in 2008.
"The numbers reflect the tangible benefits of record seatbelt use and strong anti-drunk driving enforcement campaigns," says NHTSA Administrator David Strickland. "We will continue to work with our state partners to strictly enforce both seatbelt use and anti-drunk driving laws across this nation, every day and every night."
To see NHTSA's full report on 2009 motor vehicle crash data, go to
www-nrd.nhtsa.dot.gov/Pubs/811363.pdf. – Jeff Crissey
IN BRIEF
* The Pennsylvania State Police placed 198 trucks and 34 drivers out of service and issued 643 traffic citations and 1,502 written warnings during a one-day enforcement effort that focused on commercial vehicles traveling on rural roads and noninterstate highways. Enforcement teams inspected 1,263 commercial vehicles during the detail.
* The U.S. Department of Transportation in late August issued a final rulemaking banning text messaging while operating a commercial vehicle.
* The Federal Motor Carrier Safety Administration has made available "CSA 2010: Just the Facts," a two-page document intended to dispel myths and misconceptions surrounding Comprehensive Safety Analysis 2010. To view, go to http://www.csa2010.fmcsa.dot.gov.
* U.S. Transportation Secretary Ray LaHood announced the Department of Transportation is initiating a new rulemaking to prohibit commercial truck drivers from texting while transporting hazardous materials.
* According to National Highway Traffic Safety Administration research, distracted driving-related crashes claimed 5,474 lives and led to 448,000 traffic injuries across the United States in 2009. Distraction-related fatalities represented 16 percent of overall traffic fatalities in 2009 – the same percentage as in 2008.
* Bison Transport announced that driver Aprim Shemoun of Vaughan, Ontario, reached 16 accident-free consecutive safe driving years with the company.
Preventable or not?
Moose didn't move quick enough for Doe
En route to Moose Jaw, Saskatchewan, at 3 a.m., John Doe piloted his doubles train northward across a desolate heavily wooded pitch-black stretch of two-lane highway with exquisite caution. He masticated a green mouthful of celery sticks to maximize his powers of concentration.
Doe noticed with dismay that the persistent but gentle rain that'd merely dampened the blacktop for 50 miles back had changed to a near-freezing drizzle. Still, the previously salted road didn't seem slippery yet, so he only backed off the throttle a tad. Suddenly, the headlights of an oncoming straight truck cut through the night, causing Doe to dim his high beams and … Yipes! A huge stationary moose now occupied the center of Doe's lane!
Thing went from bad to worse for Doe, who attempted an avoidance maneuver without the benefit of ABS, but then realized – with a growing sense of panic – that he'd encountered an expanse of black ice! Out of control, Doe's tractor and lead trailer sailed grandly across the opposing traffic lane and came to rest in the ditch while his rear trailer straddled the southbound lane and was clipped by the equally-out-of-control straight truck, which then plowed into the northbound ditch. What a mess!
Thankfully, nobody was hurt – including the moose. But Doe was stung later by a preventable-accident warning letter from his safety director, which he promptly contested – it was Bullwinkle's fault, Doe alleged. The National Safety Council's Accident Review Committee was asked to pass final judgment and upheld the ruling, acknowledging that while the moose clearly shared the blame, it also was obvious that Doe had been traveling too fast for conditions. n