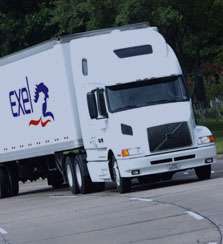 Exel Transportation has earned the Johnnie Walker Blue Award for Best Overall Carrier from Diageo, a premium drink company with brands including Crown Royal, Johnnie Walker, Captain Morgan and Guinness. Exel Transportation's office in Mesquite, Texas, provides intermodal services for Diageo and has been recognized as a core carrier partner since 2005.
Exel Transportation earned the award as a result of the highest cumulative score across Diageo's four primary key performance indicators, including ontime pick-up, ontime delivery, tender acceptance and shipment status compliance. "This carrier partner has consistently executed at a high level while maintaining in excess of 99 percent tender acceptance throughout the year," says Simon Wootton, logistics director for Diageo.
The Exel Transportation team also was noted for going above and beyond in meeting the needs of both Diageo and its customers. "We are proud to be recognized by such a valued and long-term customer, and I believe that our team's dedication to 'getting it done' helps Diageo continue to maintain its high customer service standards," says Todd Thompson, vice president and general manager of Exel Transportation, based in Westerville, Ohio.