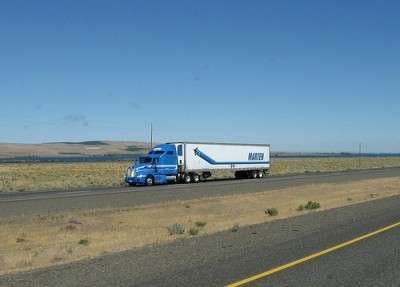 Willie Travis, a professional truck driver for Marten Transport of Mondovi, Wis., has been named a Truckload Carriers Association Highway Angel for helping a motorist in need. In the early afternoon of Sept. 15, Travis assisted Jane Hosemann, who was traveling between Chattanooga, Tenn., and Lexington, Ky., and was nearing Athens, Tenn., when she realized she had a flat tire.
As Hosemann pulled to the side of the busy highway and proceeded to unload her packed car to find the spare tire, a Marten truck pulled over and Travis calmly walked down the road to help her. Eventually, a state trooper stopped, but Travis already had everything under control.
Hosemann offered Travis compensation for his time, but he would not accept her money. For his efforts that day, Travis has received a Highway Angel lapel pin, certificate, and patch. Marten Transport also received a certificate acknowledging that one of its drivers is a Highway Angel.