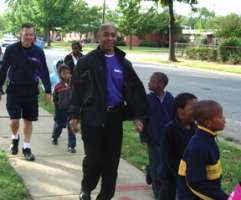 Grants totaling $400,000 were awarded by Safe Kids Worldwide to participants this October for its pedestrian safety program called Safe Kids Walk This Way, now in its 11th year. Program sponsor FedEx provided the grant funding for local environmental improvements and recognition of International Walk to School Day.
"Improved pedestrian safety in school areas is particularly vital," says Mitch Stoller, president and chief executive officer of Safe Kids Worldwide. "While most of us would expect drivers to be alert and careful in and around schools, Safe Kids research shows one out of every six drivers in school zones is distracted. The grants we are awarding will rectify potentially hazardous situations, and we thank FedEx for its ongoing support and leadership in raising awareness of child pedestrian safety and helping provide concrete solutions."
On International Walk to School Day, Safe Kids Worldwide joined thousands of FedEx volunteers and hundreds of thousands of school children across the globe on Oct. 6 to raise awareness of pedestrian safety. More than 600 activities occurred as part of the Safe Kids Walk This Way pedestrian safety program. In the United States, Safe Kids coalitions teamed up with hundreds of FedEx volunteers to teach children how to be safer pedestrians as they walk to and from school and raise awareness around specific pedestrian hazards or issues in their community.
"Safety is one of our company's core values, and we have been dedicated to improving child pedestrian safety through the Safe Kids Walk This Way program," says David J. Bronczek, president and CEO of FedEx Express. "Our team members have worked hand-in-hand with Safe Kids Worldwide for 11 years to teach children how to stay safer when they walk. Through expanding our environmental grants, FedEx can support significant changes that will make walking safer for everyone, bringing pedestrian safety to even more of our community."
Road traffic injuries are the second-leading cause of death among children ages 10 to 14 worldwide, according to the World Health Organization. Each year in the United States, nearly 250 children are killed and 13,000 treated in emergency rooms as a result of pedestrian injuries. Between 2000 and 2009, the number of child pedestrian fatalities has decreased by 49 percent, with the 4- to 7-year-old age group showing the largest decrease (58 percent). However, distracted driving in school zones continues to be an issue. The most common school zone distractions are the use of cellphones, eating, drinking, smoking, reaching behind, grooming and reading.
In 1999, Safe Kids Worldwide and program sponsor FedEx created the Safe Kids Walk This Way program in the United States to teach safe behaviors to motorists and child pedestrians and create safer, more walkable communities. Over the past 11 years, the program has expanded to include Brazil, Canada, China, India, South Korea, Thailand, Vietnam and the Philippines.