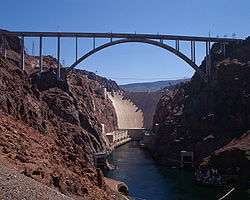 With more than a thousand of the workers who helped build it looking on, U.S. Transportation Secretary Ray LaHood on Thursday, Oct. 14, dedicated the Mike O'Callaghan-Pat Tillman Memorial Bridge at the Hoover Dam. When it opens to traffic next week, it will become the western hemisphere's longest single-span concrete arch bridge and one of the tallest in the world.
The 1,900-foot-long bridge is part of a $240 million four-lane bypass that will reroute traffic for 3.5 miles from the two-lane bottleneck on U.S. 93 across the Hoover Dam.
Planning for the Hoover Dam Bypass began in the late 1980s, though construction didn't begin until 2002. Since then, the project, located on the Arizona/Nevada state line about 40 miles east of Las Vegas, has employed more than 1,200 workers, engineers and safety experts. From extreme desert heat for months at a time to high winds, the area's rugged conditions made the project one of the nation's most demanding and difficult engineering challenges.
U.S. 93 is a high-priority trade corridor and is a central part of the major transportation network in the western United States. Due to increases in commercial freight shipments to and from southern California, and population booms in Las Vegas and Phoenix, the road over the Hoover Dam progressively became more congested.
Security concerns after Sept. 11, 2001, led authorities to ban commercial trucks from traveling across the Dam, forcing truck drivers on the route to use a 75-mile detour that added cost and delay to businesses and consumers relying on such shipments. The new Hoover Dam Bypass will shorten the route for commercial shippers along this major trade corridor and reduce traffic congestion for all who use it.