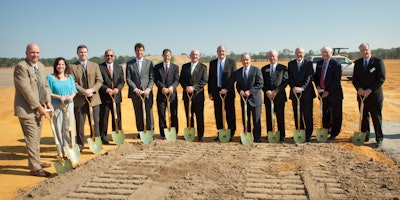 Great Dane Trailers on Thursday, Oct. 14, officially broke ground on the site of its new refrigerated trailer manufacturing plant in Statesboro, Ga. More than 200 attended the ceremony, including Georgia Gov. Sonny Perdue and other state and local business and political leaders.
Great Dane credited the cooperation among the company and state and local economic development officials with selection of the 118-acre site in Statesboro, which is located northwest of Great Dane's Savannah headquarters.
"Just as important in our selection of this site was the opportunity to continue Great Dane's legacy by keeping it close to the company's deep roots in Savannah," says Bill Crown, president and chief executive officer of CC Industries and CEO of Great Dane Limited Partnership.
The plant – which will encompass 450,000 square feet, including office and show room space – will have the capacity to produce more than 5,000 trailers annually and will employ more than 400 people.
"Our reputation rests firmly on the products we make," says Phill Pines, president and chief operating officer of Great Dane Trailers. "The refrigerated trailers that will be built here will be complex and detailed, and we are confident that the importance of this will not be lost on the work force here."
Construction is expected to get under way later this year to bring the plant into production in 2012.