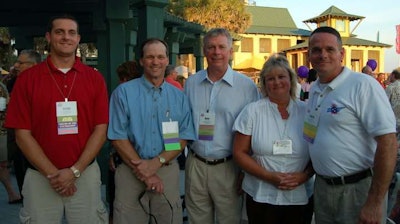 The Tennessee Trucking Association celebrated its 80th anniversary of supporting the transportation industry at the annual Tennessee Trucking Convention in Sandestin, Fla., on Sept. 11-14. The event kicked off with a celebration on the patio of the Hilton Sandestin Golf Resort and Spa.
During the convention, TTA honored professional accomplishments in the trucking industry over the past year. Dave Dortch, a notable Tennessee trucking industry figure, became the 10th recipient of TTA's Pinnacle Award, which is the highest honor given by TTA. Past Pinnacle Award winners include former Tennessee Gov. Ned McWherter, ATA Chairman Tommy Hodges and Gary Sasser, chief executive officer of Averitt Express.
Also, Harry Crabtree at Quickway Distribution Services Inc. was named the 2010 recipient of the Hugh Galbreath Award for Safety Professional of the Year. Shane Deppermann at Quickway Distribution Services Inc. was named Maintenance Professional of the Year. Skyline Transportation Inc. was named Grand Champion of the TTA Fleet Safety contest. Averitt Express, TCW/Tennessee Express Inc., Volunteer Express Inc., R.E. West Inc., TLD Logistics and UPS received Clean Diesel Awards.
Along with educational sessions and a golf tournament, an auction was held throughout the duration of the convention that benefited Tennessee's Road Team, which is part of the Tennessee Trucking Foundation, the 501(c)3 charitable arm of TTA .It featured lavish trips and getaways, jewelry and transportation-related products. Funds were raised to help continue to provide educational programs about road safety.