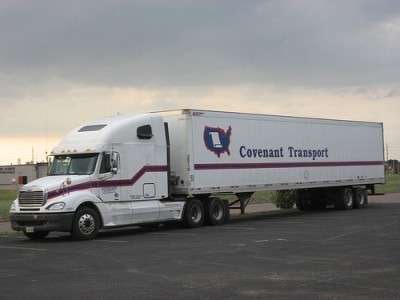 Covenant Transportation Group Inc. on Monday, Oct. 25, announced 2010 third-quarter total revenue increased 7.7 percent to $164.8 million from $153.0 million in the same quarter of 2009. Freight revenue, which excludes fuel surcharges, increased 4.2 percent to $139.0 million from $133.3 million.
Net income was $1.9 million compared to a net loss of $13.6 million. The 2009 quarter loss included a noncash impairment charge of $11.6 million related to the writedown of an investment in Transplace Inc. On a non-GAAP basis excluding the noncash impairment charge, the company's net loss would have been $2.0 million in the 2009 quarter. The company completed the sale of Transplace Inc. in December 2009.
"Our financial and operating performance in the third quarter of 2010 was encouraging and marked our best back-to-back quarters since the last two quarters of 2005," said David Parker, chairman, president and chief executive officer of Chattanooga, Tenn.-based Covenant. "Up until the last two weeks of the quarter, we believed that our third-quarter performance was going to be closer to matching our second-quarter performance. However, freight did not meet our expectations for the last two weeks of September." Parker said freight has continued to be steady but without a noticeable seasonal peak during the first three weeks of October. "We are continuing to receive rate increases from our customers in most of our operations," he said.
Parker said Covenant's focus on cost control and efficiency continued to provide positive results in certain controllable cost items. The company's asset-based operating ratio – operating expenses, net of fuel surcharge revenue, as a percentage of freight revenue – improved about 420 basis points to 93.9 percent. "Fixed costs decreased for the quarter, he said. "We continued to effectively manage overhead costs related to compensation and reduced several general expense items."