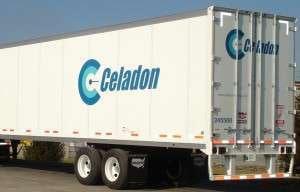 Celadon Group Inc. on Tuesday, Oct. 26, reported its financial and operating results for the three months ended Sept. 30, the first fiscal quarter of the company's fiscal year ending June 30, 2011. Revenue for the quarter increased 9.8 percent to $140.3 million in the 2010 quarter from $127.8 million in the 2009 quarter. Revenue before fuel surcharge increased 8.0 percent to $119.5 million from $110.7 million. Net income increased to $4.4 million from $0.6 million.
"Cost controls continued to positively impact results," said Steve Russell, chairman and chief executive officer of the Indianapolis-based company. "We have continued to improve our operating efficiency, which has resulted in the reduction of 455 trailers and 159 tractors in our quarter-end numbers, while maintaining approximately the same number of total miles for both quarters.
Russell said that as Celadon continues to focus on expanding its margins and improving its returns on invested capital, the company also has increased its nonasset-based business revenues more than 20 percent in the current quarter compared with the prior year. These improvements and enhancements to the company's operating model resulted in a reduction in its operating ratio to 93.2 or 430 basis points compared with the 97.5 level achieved in the September 2009 quarter.
"Our balance sheet remains solid, and we retain significant liquidity to support the growth of our business," Russell said. At Sept. 30, 2010, the company had $159.6 million of stockholders' equity, $10.9 million in cash and $27.7 million of total balance sheet borrowing with no outstanding bank borrowings, he said.