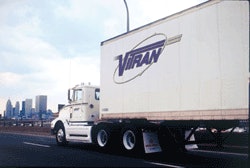 Vitran Corp. on Tuesday, Oct. 26, reported an increase in net income to $2.0 million on revenues of $182.9 million for the third quarter ended Sept. 30. In the comparable 2009 three-month period, the company achieved net income of $0.3 million on revenue of $165.9 million. The company said the consolidated increases in revenue and profitability were driven by significant improvements in the LTL and Supply Chain Operation segments.
"We continue to be encouraged with the activity growth in relationship to our unrelenting efforts to increase yield to an acceptable level within our LTL segment," said Rick Gaetz, president and chief executive officer of Toronto-based Vitran. "Most notably, our U.S. LTL business unit posted monthly sequential gains in revenue per hundredweight throughout the quarter, which led to an 8 percent year-over-year improvement in quarterly revenue. We believe we can continue to increase yield through the fourth quarter of 2010 and further improve the year-over-year results."
Gaetz said Vitran's Supply Chain Operation posted record revenue and income from operations in the quarter, which was achieved by activity improvement throughout the segment as well as the commencement of operations in two new facilities, Albuquerque, N.M., and Salt Lake City.
The company said its less-than-truckload segment posted income from operations of $3.0 million with an operating ratio of 98.0 percent compared to income from operations of $1.5 million and an OR of 98.9 percent. Shipments and tonnage improved 4.9 percent and 4.6 percent respectively in the LTL segment.
The Supply Chain Operation posted income from operations of $2.0 million, a record, and an OR of 91.5 percent compared to income from operations of $1.7 million and OR of 91.4 percent.
The Truckload segment posted a decline in income from operations to $70,000 compared to $175,000, and the Truckload OR was 99.2 percent compared to an OR of 98.0 percent. Vitran said its Truckload segment's results deteriorated due to higher-than-anticipated accident costs and a lack of qualified owner-operators.